AAPL Stock: Apple Inc. Is Innovating, But That Is Not The Real Problem
Apple has been consistently innovating.
The innovation is about perception.
However, Innovation does not equal sustainable competitive advantage.
Contrary to what most people think, Apple Inc. (NASDAQ:AAPL) is innovating. In fact, it is doing quite a lot of innovation. Unfortunately, the masses believe innovation is akin to creating flying cars or jetpacks. That is one form of innovation. However, there are actually two forms depending on how you look at them.
First things first, looking at the 2016 10K, I already see numerous innovative products and services released in September 2016. See the chart below as well as my categorizations from the company perspective. Now, the company will not tell you directly, but based on features, you should be able to make them out. (See also: 3 Reasons To Buy Apple Inc. (AAPL) Stock Now)

(Source: Self-created)
Innovation is not just about the numbers
If Apple were not innovating, R&D would not be increasing.
Total R&D expense was $10.0 billion, $8.1 billion and $6.0 billion in 2016, 2015 and 2014, respectively.
Let's take a look at the number of employees. That is an indication of the innovation process as well. If the number of employees is increasing, it indicates that Apple is innovating.

(Source: 10-Ks)
You determine the success of the innovation through the increase in sales. However, due to the larger value of sales, a $2 billion increase in sales will not have the same effect as a $2 billion increase in R&D. Thus, we have to look at the absolute values for the numbers, not the growth trajectory.

(Source: 10-Ks)
Thus, what we know is that for one year only, Apple spent too much on R&D and it did not pay off. However, this is where management becomes really important.
Though it might be insignificant to those who do not understand, Apple's marketing chief Phil Shiller's quote regarding courage should be an eye opener. It signifies that Apple is still willing to take risks. Companies of Apple's size usually are reluctant. Take Microsoft for instance. It was so hesitant on being open for a long time that it missed out on tremendous business opportunities. When you invest in a company, you want management to be open and willing to take risks. Otherwise, it gets disrupted.
For instance, reexamining the innovation table, we notice that management created a competence enhancing innovation with the iPhone. It built on previous knowledge and technologies to create the new phone. If it were competence destroying, Apple would not have gone forward with the phone. A classic example of managerial cognitive rigidity is the case with Polaroid. It was not able to innovate. Management was unable to accept electronic pictures over chemical film despite acceptance from consumers. Management was worried that accepting the new standard would have destroyed the knowledge the firm took many years to acquire.
Its all about perspectives
Innovation is also about perspectives. As we clearly know, Wall Street does not believe Apple is innovating. However, Apple believes it is innovating.
This may be the reason why Apple's stock price has been stagnant.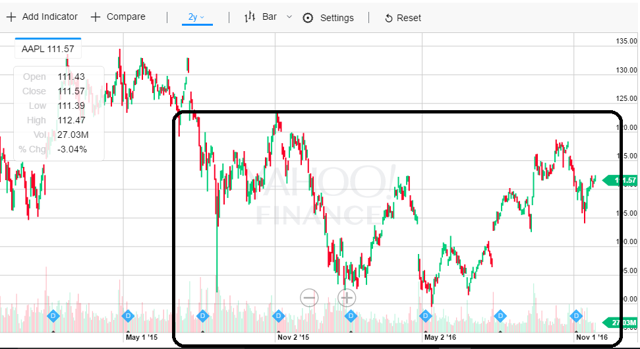 (Source: Yahoo Finance)
However, let's go a bit deeper into cognition theory. According to cognitive science, there is a phenomenon called the enacted world. Basically, people create their own reality. If enough people agree with a thought process, the reality becomes a self-fulfilling prophecy. Recall, everyone believing the stock market was going up because Hillary Clinton was going to be elected or the market falling back in September 2015 due to China worries.
Many analysts on CNBC talk about Apple being a one-trick pony and lacking innovation appears to have become the consensus judgment.
That is what the enacted world is. Enough minds have been primed to believe that story that it has become accepted as reality by analysts. If you question it, you look like a fool. This, my friends, alludes to the famous herding effect where analysts pile in so they can be safe if something goes awry with their stock predictions.
Perception of Apple by outside parties should be seriously taken into account by any investor. (See also: Why China Will Drive Apple Inc. Performance In 2017)
Red ocean strategy
Getting back to more concrete terms, Apple may need to change its strategy. Back in the day, when Jobs was alive, the three products: iPod, iPad, and iPhone were new to the market. In fact, this was a blue ocean strategy.
A blue ocean strategy "accesses untapped market space and create demand, and so they have the opportunity for highly profitable growth. In Blue Oceans, competition is irrelevant. Yes, imitators arise, but experience shows there is a wide window of opportunity to stay ahead of imitators." This should sound familiar and remind you of Apple's past.
Fast forward to today and you have tremendous competition in the space. Apple may have to compete with price or some other means to survive. This is an example of a red ocean strategy.
A red ocean company "tries to outperform its rivals to grab a greater share of existing demand. As the market space gets crowded, prospects for profits and growth reduce. Products become commodities and cut throat competition turns the ocean bloody red."
The smartphone space is crowded. The tablet space is crowded. Just look at how the market has changed over the years. While I admit Apple has still got it in terms of innovation, it appears to be lacking in creating a sustainable competitive strategy. Innovation alone does not guarantee a competitive advantage. According to Schumpeterian vies, creative destruction results in a short-lived competitive advantage. Though Apple is innovating, it is in a rapidly changing industry. Thus, Apple may need to pursue alternative strategies such as pricing or internal efficiencies within the firm. This may be the reason for the decline in the iPhone sales for example.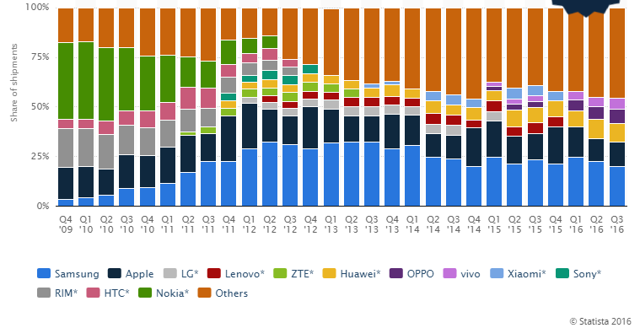 (Source: Statistica)
Conclusion
Apple's innovation is not the problem. It needs to overcome two hurdles: perception and updated competitive strategy for Apple stock price to begin to appreciate. Perception is one of the hardest things to overcome.
Looking to invest in technology companies? Here are our latest Tech Stock Picks which have outperformed the NASDAQ by over 100%.
Is this article helpful ?
---