Amazon Entering Freight Business Is A Bold And Strategic Move
Last week Amazon entered the $350 billion ocean freight market through its registration with the Federal Maritime Commission.
This initiative undercuts Alibaba's global success because it gives Amazon the ability to compete with Alibaba on price. Price as a competitive advantage is Alibaba's strong hold and this might give Amazon the upper hand.
Amazon's advantage is made better because, globally, Amazon has a better reputation with respect to counterfeits than Alibaba.
Alibaba (NYSE:BABA) has been investing in new and existing global operations to expand its reach. Tmall Global for example, helps foreign brands sell products online directly to Chinese consumers and AliExpress is a cross border online marketplace that sells Chinese goods to people all over the world. Alibaba group CEO Daniel Zhang has stressed that international expansion is a top priority in the coming year.
"Today, you can say Alibaba is in the process of achieving globalization," he said. "Over the next five, 10 years, 30 years, this is the journey. We must absolutely globalize and it must be a successful effort—if not Alibaba won't be able to last" for more than 100 years, one of Alibaba Executive Chairman Jack Ma's loftiest corporate goals." - Alizila.
Alibaba's global expansion plans present a threat to one of its biggest competitor - Amazon (NASDAQ:AMZN). But Amazon recently took an initiative that undercuts Alibaba's competitive advantage in its global expansion plans.
Amazon's Advantages
Last week, Amazon registered as an ocean freight forwarder through joyo.com as shown in Figure 1 below. Amazon freight services will be able to oversee a products' journey from a Chinese factory all the way to an American warehouse.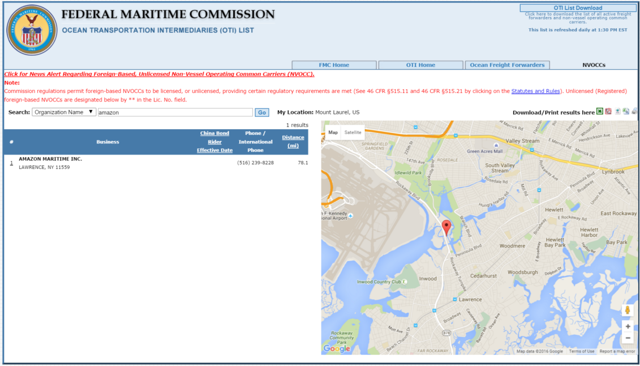 Figure 1: Source:Federal Maritime Commission - Ocean Transportation Intermediaries)
Joyo.com is Amazon's Chinese subsidiary that Amazon purchased  in September of 2004 for $75 million as shown in Figure 2 below. This registration means that Amazon has the appropriate paperwork to provide ocean freight services for other companies. This Implies that Amazon will not be putting its own ships in the water but it will be selling capacity, and managing the shipping process.

Figure 2: (Source: Amazon's 2004 Annual Report, Pages 33)
This is an important milestone for Amazon because it incentivizes more Chinese suppliers to sell their merchandise directly to U.S. consumers because Amazon gives them access to ~188 million monthly customers that visits the online retailer. In addition, this offers Chinese suppliers the opportunity to make better margins from both turnover (because of the many customers Amazon gives access to) and higher margins (because they are taking out middlemen and selling their products directly to U.S. consumers where they can get better prices than in China).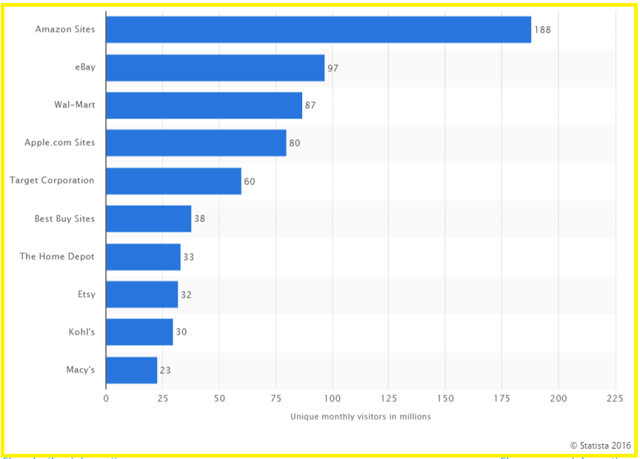 Figure 3: (Source: Statista)
Being able to attract more Chinese suppliers to sell on Amazon could mitigate Alibaba's international success because Alibaba's price advantage on its platforms emanates from the fact that its sellers on AliExpress are Chinese suppliers who make better margins selling to countries with more powerful currencies relative to the yuan such as the U.S. dollar.
But Amazon's advantages are numerous.
In addition, the ocean freight market is a $350 billion market. Amazon had $88.99 billion in revenues during the last fiscal year.
Source: Amazon revenue chart by amigobulls.com
The fact that Amazon is dipping its hands into a $350 billion market is a good news for its shareholders.
Furthermore, information is power and in this case it gives Amazon competitive advantage. As a freight forwarder, Amazon has access to the wholesale price importers will be paying. This is good for two reasons. (1) Amazon could potentially cut any merchant from the equation if the margins on any transaction are too lucrative for it to pass on. Amazon will understand what profits importers make and what goods are better off acquired directly from manufacturers. (2) Amazon can use the data to negotiate on prices of products it sells on its websites. In the long-term, this access to information will be more valuable than any market share it can acquire in this new industry.
Risks
The registration with the Federal Maritime Commission is just a first step to becoming an ocean freight forwarder. The benefits might not start to materialize in a few months or even years.
Besides, Amazon has been known for being a ruthless competitor. This means that it will find it hard to attract brands that it competes with - and that might be a long list. There is no company that happily gives a competitor access to sensitive supply chain data.
Lastly, I believe that the future of international shipping might be in air freight and not ocean freight. Although, in general, ocean freight is cheaper than air freight, air freight is faster and more reliable. Nonetheless, there will always be merchandise that will not be efficient to transport through air.
Conclusion - Why Amazon Investors Should Be Excited
The race to a trillion dollars a year.
In addition to the aforementioned advantages, the race to a trillion dollars is another reason why investors should be excited about Amazon's move.
"We think we're going to be the second or third trillion-dollar-a-year marketplace," Szulczewski, the CEO of shopping app Wish, told me. His company operates a family of e-commerce apps that sells a giant assortment of products at bargain-basement prices. "We think Alibaba will be first and then it's either us or potentially Amazon depending on how quickly, or if, they win in India....Yes, that's "trillion" with a T."- recode
As a freight forwarder, Amazon will be able to rapidly increase revenues because every minute cargo is being shipped from one place to another. Amazon's exposure to the $350 billion ocean freight market is likely to increase the company's gross merchandise value. Having annual gross merchandise value north of a trillion dollars does not necessary mean top-of-the-line margins, but it is enough to attract interest and raise valuations.
Amazon has the potential to succeed because it can afford to be a cost leader. Meaning that it can price freight as close to cost as possible in an effort to cut out competition.
But the other essential benefit is big data. Access to shipping information, importers margins and exporters wholesale prices is important for Amazon in the future. For them to be successful in the new market, they have to have access to information that competitors have and information that competitors might not have. Knowing is owning because it gives you leverage and makes it easier to plan.
Is this article helpful ?
---