AMD Stock Could Explode If Vega GPUs Arrive In 2016
AMD's Vega line-up could be released two quarters sooner than expected; the management is already prepping the venue for a launch.
Advancing the launch could benefit AMD in terms of both financial and market share gains.
But AMD will have to make sure it doesn't skimp testing and sampling of its cards in a bid to rush the launch.
It looks like AMD (NASDAQ:AMD) is making headlines again. A senior director of the chipmaker revealed on Facebook yesterday that they're readying up a venue to launch their next-gen high-performance Vega line of GPUs. Although the exact timeline wasn't revealed, industry experts believe that the launch event could take place sometime in October this year. The GPUs were earlier scheduled for release in early 2017, so that's a significant advancing of the launch, especially considering that AMD operates in a cut-throat, time and resource sensitive semiconductor industry. Let's take a look at the prospects of this development.
Upsides to this development
I'd like to start by saying that Vega is a high-end GPU, and not a typical mid-ranger, that comes with the second generation of high bandwidth memory (HBM2). It's based on the GCN5 architecture (like Polaris) and AMD claims that the new architecture, along with a relatively advanced 14nm manufacturing node and HBM2 memory would allow these next-gen GPUs to deliver a 20-30% performance boost compared to its preceding generation codenamed Fiji. This is a significant performance jump that could encourage technology enthusiasts to consider AMD offerings for their high-end gaming needs.
Granted that these GPUs won't be able to compete with Nvidia's Tesla offerings directed towards data center accelerators. But it's a solid 30% performance boost, that would potentially allow AMD to compete with Nvidia in the high-performance GPU segment. Nvidia has been currently enjoying the lucrative top-end GPU segment all for itself, with practically no competition from AMD. So Vega cards stand to not only challenge Nvidia's hegemony in the segment, but they could also open up a new market segment for AMD. It's a highly profitable segment and AMD needs only a slice of the market to boost its overall margins.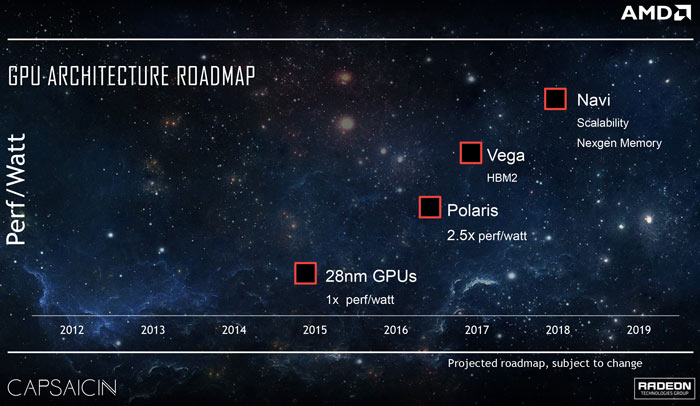 The preponement could actually work in AMD's favor, financially and operationally. For starters, Nvidia's next-gen Volta GPUs are scheduled for release in 2018. So AMD could actually bolster its market position by advancing the Vega line-up launch. After all, any credible threat from Nvidia won't come until 2018. If at all Nvidia launches a GPU refresh with higher clock speeds and higher wattages to counter the Vega cards, AMD could do the same and neutralize the threat altogether. High-end gaming enthusiasts generally care more about performance rather than power efficiency, so AMD won't have to struggle in that department.
Advancing the launch of Vega cards by two quarters means that the sales contribution of the next set of AMD's high-performance GPU cards would come in two quarters sooner. This might well boost Vega's revenue collections over its lifespan. It's worth noting that analysts would've based their financial projections for AMD on grounds that Vega would be launched in 2017. But they would have to readjust and remodel their financial projections for FY17, taking into account the increased lifetime revenue of Vega cards over the next few quarters. This could trigger analyst upgrades for AMD going forward.
And lastly, I'd like to add that AMD has struggled with the timeliness of its product launches in the past. This translated into a loss of both, finances and opportunity. But advancing the launch of Vega cards speaks volumes about AMD's current management. The chipmaker could be finally executing a product launch in a timely manner and exceeding the street's expectations. Maybe this is AMD's new way of doing things?
Caveats
Now that we've covered the rosy part, with all the goodies clubbed together, let's also take a closer look at some of the challenges that AMD and its shareholders could face going forward.
First and foremost, as I've mentioned before, AMD has struggled to release its products in a timely manner in the past. The chipmaker usually takes its own sweet time to release its CPU or GPU line-ups. So if AMD is rushing the launch of its Vega cards, just so that it can compete with Nvidia's top-end Pascal GPUs, it could backfire for the chipmaker. AMD needs to make sure that it doesn't skimp on testing and sampling of its GPUs. Otherwise, AMD will have buggy cards on the market that could tarnish its reputation (even further?).
More to the point, AMD products have also been known to be hyped before their launch. We saw this recently with the release of its Polaris GPUs and this might be the case with its Vega line-up as well. So I'd be relatively conservative regarding the touted performance gains for Vega, as shown in the chart above.
Granted that Nvidia is scheduled to release its next-gen Volta cards in 2018. But if it see's a credible threat from AMD, and projects a significant market share erosion, then Nvidia might move to advance the launch of its cards as well. That could potentially nullify AMD Vega's competitive advantages, as mentioned above.
Putting it all together
AMD has been beaten down so much that it doesn't really need to beat Nvidia at this point in time to stage a successful financial turnaround. Even if AMD manages to capture an additional 5-10% share of the GPU market, its shares would explode. The chipmaker is finally coming out with products that could compete fiercely with Nvidia's offerings, so I'm optimistic about its prospects. The advancement of Vega is another welcome move; it's aforementioned pros appear to outweigh the cons by a huge margin.
Is this article helpful ?
---