Apple Stock: Samsung Losses Are Yet To Benefit Apple Inc. (AAPL) Stock
Apple's Q4 results showed that the next quarter might surprise investors.
This surprise will come from customers gained due to Samsung's scandal because this gain was not reflected in Apple's Q4 results.
The Customer Lifetime Value ("CLV") from Samsung's fiasco will be lucrative for Apple because of new additions to the Apple Ecosystem.
One of the major advantages of using Apple Inc. (NASDAQ:AAPL) products is how well they work together. They seamlessly transition between each other, making it easier for the consumer to use multiple products at once. For example, AirDrop makes it easier to transfer stuff from your iPhone to your Mac and vice versa or receiving calls from your computer when your iPhone is far away or sending and receiving text messages on your Mac or using ApplePay. These features make the ecosystem even more powerful and attractive to consumers.
For this process to work and for Apple to fully integrate a new consumer into their ecosystem, it takes time. This is why I believe that Apple is yet to see more sales growth from Samsung's Note 7 failure than Q4 2016 results have shown.
The Ecosystem Advantage
Apple's Tim Cook has been known to talk about new customers who switch from android phones to iPhones. According to ComScore, 17% of android users will switch to iPhone this year. This works out to mean 3.91 million Android users seem likely to switch to Apple's new iPhone this year. Now, that number might surge a little bit given the Samsung Note 7 scandal.
But the biggest advantage in the switch is not in the number of new iPhones these people buy but the aggregate dollar amount they will bring given the fact that they are now entering Apple's ecosystem.
First, the Samsung loss has not yet been fully factored into Apple's stock price.
This is because Apple's main benefit does not merely come from people switching but from those people buying more Apple products once they are in the ecosystem. (Also read: Will This Catlyst Revive Growth At Apple Inc?)
Apple's strong and profitable ecosystem is one of the major reasons why Apple Service has become a giant of a start-up within Apple. Growing with "incredible momentum", where "revenues grew 24% to set another all-time record." Apple Services includes revenues from Internet Services, AppleCare, Apple Pay, licensing and other services. The "Services" product category brought in $6.33 billion in Q4 2016 as shown in the table below.
(Source: Apple's Q4 2016 Unaudited Summary Data)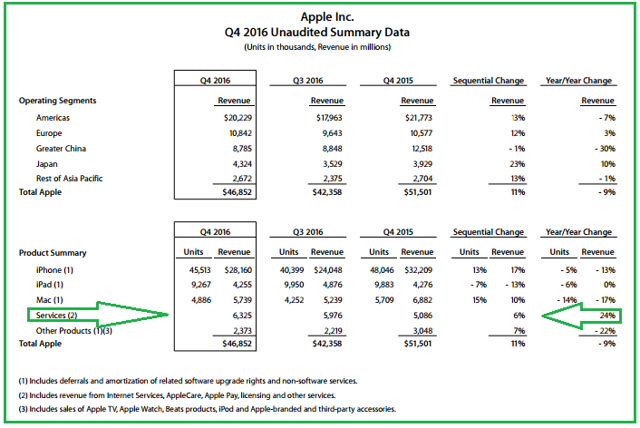 This is why I believe that the full benefit of android switchers from the Samsung fiasco has not been fully factored into Apple's sales and Apple's stock price. This means that the net profit attributed to the entire future relationship with a new customer or Customer Lifetime Value ("CLV") for Apple is relatively high and manifests over time as Apple sells more and more products to its customers.
Apple Service business is an epitome of the power in Apple's ecosystem. Once a customer is acquired, Apple can lure them to buy other products such as Apple Watch Series 2, Mac, Apple TV, Beats products, iPod, AppleCare, licensing among others.
Second, Apple's Q4 timing was not a good time for Apple to see benefit from Samsung's recall
There was not enough time for Apple to have benefited from the Samsung Galaxy Note 7 fire problems before reporting Q4 2016 earnings. This is because both the iPhone 7 and the iPhone 7 Plus went on sale on September 16th, 2016.
Samsung's premium Galaxy Note 7 went on sale on August 19th. However, the first recall was on September 2nd but the total recall did not happen until October 11th. Meaning that we are yet to see the full benefits to Apple's iPhone 7 Plus from Samsung's Note 7 recalls as some people choose Apple's iPhone 7 Plus over Samsung Galaxy Note 7.
For example, in Q4 2016, Apple sold 45,513 units of iPhones, ~5% lower than in Q4 2015. Also, Apple continued its high growth in Japan, growing by 10% y/y but slumped by 30% in Greater China. China being the market for better and bigger phones and home to two of the largest global smartphone vendors; Huawei and Xiaomi. These results do not support the assertion that Apple has already benefited from the Samsung story.
(Source: Apple's Q4 2016 Unaudited Summary Data)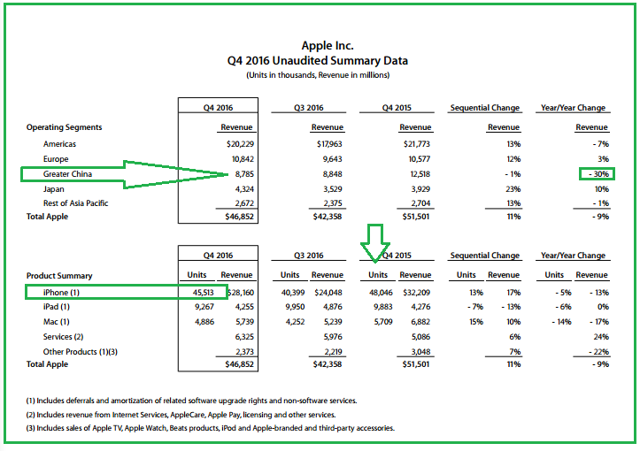 Third, there is only one major global player in the high-end smartphone market remaining with a new smartphone before Samsung rectifies its problem.
Some Samsung customers are still refusing to turn in their Samsung Note 7 phones despite the fact that the company has asked everyone to return them because of the security risk they pose. As of September 27, Samsung reported that it got back 60% of all Samsung Note 7 phones. The remaining 40% could still negatively affect the company as any headline news relating to the burning phones or phones not allowed in some airports would make would-be customers skeptical to buy future Samsung products. (Also read: 3 Hidden Growth Catalysts For Apple Inc. Stock)
This creates a long-term opportunity for Apple because it means that Apple has the potential to win over customers who are still undecided as to which phone to buy or whether or not they should switch from android to iPhone.
Conclusion
The fact that Apple's Q4 does not seem to incorporate Samsung's loss is exciting because it makes Apple's next quarter more likely to surprise. In addition, Samsung is a bonus because Apple's Q4 results were actually better than what the Apple stock price reflects and I believe that over time, the market will begin to give it the credit it deserves.
When Apple stock price began hitting new highs, investors feared that the company would no longer be able to grow sales and sustain the margins. As a result, Apple's stock price suffered a tremendous loss on the back of expected lower iPhone sales. Apple's stock price declined by more than 30% from mid-2015 when it was trading around $132/share to ~$90/share in mid-2016 because investors feared that it was the end of the road for the iPhone hype.
These fears made Wallstreet analysts and many other investors to turn bearish on Apple stock. This is why Wallstreet analysts initially predicted that Apple was going to achieve EPS of $1.6 and it was going to have revenues of $45.9 billion. Over time, these predictions started to increase. Meaning that in Q4 when Apple reported EPS of $1.67 and revenues of $46.85 billion, it was ~4.4% and ~2.1% higher than initial EPS and revenue estimates, respectively.
These results confirm that Apple is still strong and that it still has room for growth. Evaluating technology stocks? Check out Amigobulls' top tech stock picks, which have outperformed the NASDAQ by over 115%.
Is this article helpful ?
---