Can Emerging Markets Growth Potential Fuel Apple, Inc. Stock Higher?
Apple's competition can sometimes be blown out of proportion because the majority of its competitors are not dominant in Apple's strongholds.
But Apple is a dominant player in competitors stronghold - China. Making it possible for Apple to grow by grabbing back lost market share.
Lastly, the price convergence between various smartphones globally favors strong, recognizable and quality brands like Apple.
Apple's competition not as strong
Based on Apple (NASDAQ:AAPL) key geographic regions where the company derives most of its revenues from, we can deduce that its competition might not be as strong as the market has come to believe.
Here is why. The newcomers that are stressing out Apple investors are outside the "Americas" region. This is important to point out because Americas accounted for ~42% of Apple's total sales for the three-months ended June 25, 2016.
This means that these newcomers are not threatening Apple in its stronghold market. Most importantly, Apple's biggest, emerging competitors such as Xiaomi, Huawei, OPPO and Vivo are not dominant in the Americas, Europe or Japan. Meaning that they are not adversely affecting Apple in regions that make-up ~73.5% of Apple's total sales.
Another key point to note is that Apple is a dominant player in their (competitors) stronghold market - China.
According to a Nielsen report presented on CNBC, Apple managed to strengthen its hold on the high-end smartphone market in mainland China in the March quarter. Apple has become the "ultimate choice for Chinese premium smartphone consumers" who are focused on "stylish and high-quality smartphones."
Taking the fight to its competitors
Taking the fight to its competitors with a stronger brand name, quality product and stronger security.
If Apple can manage to dominate the high-end market in China despite facing the toughest competition possible in the mainland, what will stop it from gaining market share in other emerging markets as it expands beyond China?
Apple has a chance to expand its market share in emerging markets by either reaching untapped markets or by grabbing market share from low-cost smartphone vendors.
We know there is room for growth in emerging markets because low-cost smartphone vendors are still gaining momentum in emerging markets.
"In a slowing smartphone market where large vendors are experiencing growth saturation, emerging brands are disrupting existing brands' long-standing business models to increase their share," said Anshul Gupta, research director at Gartner.
Meaning that there is still room for growth in emerging markets by (1) reaching new demographics and by (2) grabbing market share from low-cost smartphone vendors.
Apple can manage to do either by becoming price competitive. Hence the significance of the iPhone SE. Moving forward, Apple can attempt to create variations of the iPhone SE (increase the size or tweak design) to make itself more competitive in new markets.
This will work because Apple has a strong brand name and a good reputation for quality phones. Meaning that in a world where prices of smartphones are becoming relatively the same, more people are likely to choose Apple.
Price convergence as a competitive advantage
As older and better versions of old iPhones continue to get cheaper with the release of newer versions, low-cost vendors will have a hard time competing with established and well-known brands such as Apple in emerging markets.
In addition, the market dominance of these low-cost vendors might not be permanent because whoever can lower prices becomes the dominant leader. This is detrimental for these firms because customers are not loyal to their brands. Meaning that, customers can quickly and easily switch over to another brand if that brand becomes cheaper.
For example, newcomers like OPPO just managed to overtake one of the fastest growing smartphone firms - Xiaomi. One of the reasons this might be the case is because Xiaomi has been trying to introduce slightly more expensive smartphones. Xiaomi has been credited to produce some of the best quality products in the world but their brand is not perceived as highly as Apple or Samsung.
Consequently, Apple has the chance to grow by gaining market share in emerging markets from low-cost vendors because it has a strong, established brand that stands for quality products.
The risks for Apple from Samsung
Samsung's recent quarterly results (Q1 & Q2 2016) imply that profit margins are trending higher as the company has reported its best quarters in operating profits since early 2014. These record quarters in over 2-years has razor focused the attention on the Galaxy S7 and S7 Edge. Samsung seems to be crediting the strong sales growth to its new Galaxy 7 smartphone. According to CNBC, several brokerages are now expecting Samsung's mobile business to have been the top earner for the company.
If S7 continues to outperform and beat estimates, it is possible that Apple might be adversely affected for a number of reasons.
First, because Samsung is Apple's closest and most powerful competitor. Second, the high-end smartphone landscape is often perceived as a zero sum game. Meaning that a potential gain in sales from Samsung can hinder sales growth at Apple.
Third, Samsung's brand name, design, pricing and quality of the Samsung S7 appeals to high and middle-end consumers. Meaning that Apple might get more affected than other competitors such as Huawei and Xiaomi as sales for Samsung surge.
This might explain why in 1Q16, Apple lost the most market share among the top five smartphone vendors in the world as shown in the table below.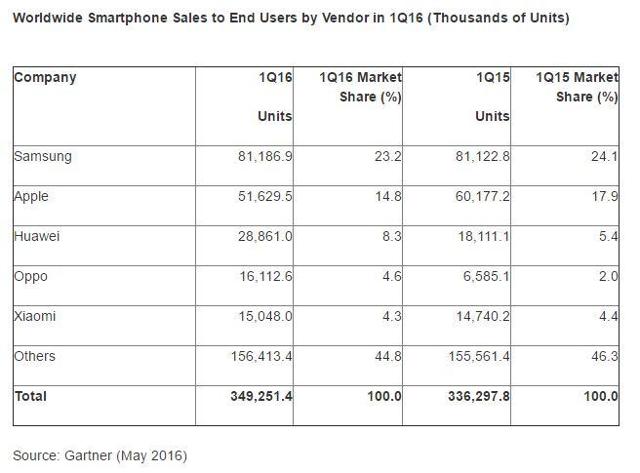 Source: Gartner, Inc. - top five smartphone vendors
To put the losses and gains in market share of each of the top five key smartphone players into context. Samsung, Apple and Xiaomi lost 0.9%, 3.1% and 1.5% respectively. While other key players such as Huawei and Oppo gained 2.9% and 2.6% market share in 1Q16.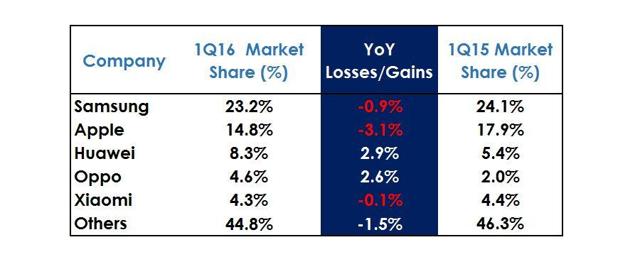 (Source: Authors analysis with data derived from Gartner)
Because Apple seems to have lost the most market share as shown in the table above, Samsung's potential surge in sales driven by its Samsung S7 puts a lot of pressure on Apple to increase sales by the year end.
Conclusion
In its January report, the International Data Corporation ("IDC") reported that "Xiaomi spent 2015 trying to encourage a transition away from the low-end range of models into more midrange models, although the bulk of shipments still rest on low-end volumes from the Redmi line."
After attempting to sell high-cost products, Xiaomi seems to have failed in its endeavor because market share has dropped by 0.1% and OPPO has replaced it as the fourth largest smartphone vendor in the world.
(Source: Smartphone vendor Market Share, 2Q15)

This is an example of the power of brand name. Xiaomi has been known to produce quality and advanced smartphones but its brand name does not resonate with people the way Apple does. It is harder for it to compete with Apple in the high-end market.
This applies to Apple's other competitors with the exception of Samsung. But as shown in the table above, when Apple was losing market share, Samsung was also losing market share. Implying that they lost market share to new players and not necessarily each other. This means that they can both grow by gaining back the lost market share from low-cost vendors and by exploring untapped markets.
Is this article helpful ?
---