Can Netflix, Inc. Sustain Steep Valuations?
Netflix's overvaluation is not a unique case. Amazon has seen tremendous price appreciation despite its astronomical valuations.
The "growth" prospects emanate from Netflix's ability to grow subscribers within and outside the U.S. by double-digit.
But the high-growth rate of Netflix might not be sustainable, implying that valuations could slip.
Netflix Overvaluation
I compiled a quick snapshot of Netflix (NASDAQ:NFLX) valuations relative to its industry average, the S&P 500 and its own 5-year average from Morningstar, as shown below. It is a well-known argument that Netflix is overvalued. So, I will keep this short. Netflix's P/E, P/B and P/S are respectively 10, 4 and 3 times higher than its industry average, and 17, 7 and 3 times higher than that of the S&P 500.
Source: Authors analysis with data derived from Morningstar
What is uniquely different here is the fact that the current P/E of Netflix is 2 times its own five-year P/E average. This is an important observation because it means that investors are expecting a higher growth rate for Netflix moving forward, compared to its historical growth rate.
This valuation is misplaced because Netflix cannot sustain the high historical growth rates considering the fact that there are new and major players in town and that its global expansion plans are not growing as fast as expected.
Two Major Growth Areas For Netflix
I believe that the two major reasons supporting the high valuations of Netflix are: The expectation that subscribers will continue to grow by double-digits and revenue growth will subsequently increase as Netflix expands its presence in and outside the United States.
These growth expectations emanate from Netflix's historical high-growth rate. Netflix has been consistent in disappointing the bears by growing its subscriber base every first quarter by an average of 32% y/y from Q1 2012 to Q1 2016 as shown below.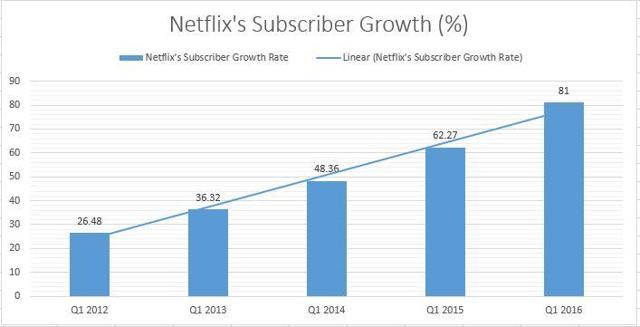 Source: Statista
As of Q1 2016 (on April 18th, 2016) Netflix had 6.5 million net adds and over 81 million total aggregate subscribers, representing over 200% growth in total subscribers since Q1 2012 (when its total subscriber base was only 26.48 million).
In addition to the double-digit subscriber growth rate, Netflix's top-line has also been growing by double digits. According to data compiled from Morningstar, Netflix revenue growth rate has averaged 21% since the end of FY 2011.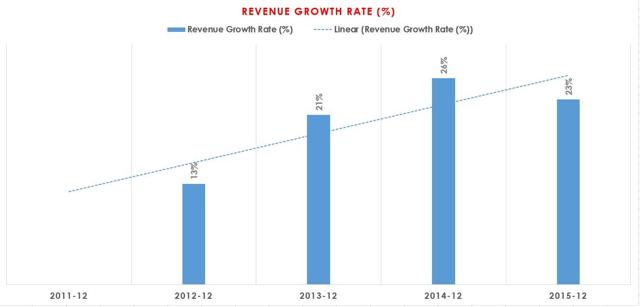 Source: Authors analysis with data derived from Morningstar
This tremendous growth rate has always supported the high valuations of Netflix.
Accelerated Market Saturation & Early Market Maturity
Netflix's international growth prospects have bolstered investor confidence in the name with renewed optimism for continued double-digit top-line growth rates. But this doesn't seem to be the case anymore.
FY2016 subscriber growth estimates for Netflix are ~43% below Wall Street projections. For Q2 2016, Netflix offered weak guidance suggesting that its international subscriber growth rate might not be as high as expected. Netflix expects to add 2.5 million total new subscribers (2 million abroad and 0.5 million in the U.S.), which would mark Netflix's slowest quarter since 2014. This guidance is also well below Wall Street estimates of 0.586 million in total domestic net adds, and 3.5 million internationally.
In addition to Netflix's slow global growth expansion, the United States market is maturing and Netflix's growth rate might plateau sooner than anticipated. It is maturing for Netflix partly because of intensifying competition that is going to accelerate the rate of market saturation in the United States. For instance, Amazon finally broke out Prime Video from the full Prime bundle. Prime Video is now going to be priced at $8.99/month without getting free two-day shipping, Amazon's music service, or other perks. This initiative makes Amazon Prime Video a much direct competitor to the likes of Netflix and Hulu.
Subscriber Growth Problem & Shrinking Catalog
Netflix is going to face a lot of pricing pressure for two main reasons:
More players in the market will accelerate Netflix's market saturation and increase content acquisition costs thereby decelerating Netflix's subscriber adds and, consequently, revenue growth.
The double-digit subscriber growth rate might not be sustainable in the long-term due to Netflix's catalog shrinkage problem
Netflix is facing increased competition from well-capitalized competitors such as Amazon Prime Video, Youtube Red, HBO and  Hulu, a joint venture by Walt Disney (NYSE:DIS), Twenty-First Century Fox (NASDAQ:FOX) and Comcast -A (NASDAQ:CMCSA).
Competition gives consumers more choice and this makes consumers more price sensitive to Netflix pricing. Besides pricing challenges, well-capitalized competitors make content acquisition much more expensive as film writers and producers have better bargaining power as there are more bidders.
In addition to pricing pressure, Netflix is also facing a catalog shrinkage issue. According to a report on AllFlicks, a website that lists and categorizes Netflix content, the streaming service's library for American subscribers has shrunk by a third since 2014.
"The statistics are simple and remarkable: in January of 2014, Netflix offered its US-based users a selection of 6,494 movies and 1,609 TV shows, for a total of 8,103 titles. As of March 23, 2016, they offer just 4,335 movies and 1,197 TV shows - 5,532 titles in total. That's 2,571 fewer titles. In other words, Netflix's catalog has shrunk 31.7% in less than two and a half years!" - AllFlicks.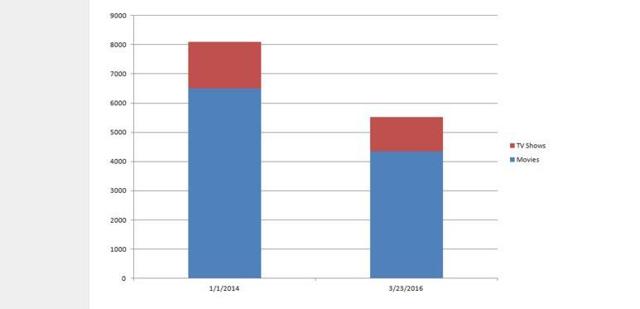 Source: AllFlicks
This shrinkage implies that Netflix competitors might have a chance to decelerate Netflix's subscriber growth rate. This ties back to the pricing pressure mentioned earlier because it creates another threat that Netflix's subscribers will deflect from Netflix after the price hike given that its U.S. catalog has shrunk by more than 2,500 titles in less than 2.5 years. Meaning that Netflix's customers have fewer choices of movies to choose from.
Conclusion
Netflix is not the only overvalued company, Amazon also sails in the same boat. But Amazon's stock price has appreciated tremendously over the years despite the fact that the company's valuation is too high, implying that it is possible for Netflix's shareholders to see a price appreciation in Netflix despite the company being overvalued.
The only challenge, however, is that Netflix's revenue stream is not as diversified as Amazon's. Amazon has a lot of growth areas that continue to bolster investor confidence in the name.
Netflix's growth frontiers are facing serious headwinds. Its US market is likely to be saturated sooner due to increased competition, a situation that might lead to lower single digit or flat revenue growth rates. In addition, its international expansion plan is not panning out as expected, implying that Netflix's revenue growth rate, moving forward, might not be sufficient to support its high valuation.
Is this article helpful ?
---