Disney Stock Has Huge Upside Potential
Lagging market sentiments towards Disney's forward earnings power are hindering the company from realizing its full potential.
This is why Disney trades at a steep discount to its fair value estimates- a 32% upside potential.
This undervaluation plus Disney's 2016 catalysts will drive Disney's stock price.
The Brexit downturn plus the lagging market sentiment on Walt Disney's (NYSE:DIS) stock price have created a rare opportunity to buy a superior business franchise at undemanding valuations.
I say this because of a few catalysts: (1) Disney's Buena Vista is currently commanding a 31.4% market share at the Box Office, (2) Disney recently launched a $5.5 billion, 1,000-acre property in Shanghai poised to be a cash generating venture, (3) Disney's unique position as a key player and disruptor of traditional television and (4) Disney's strong balance sheet amidst growing dividends and increasing book value.
Est. 2017 fair value - Disney has a 32% upside potential
Disney's 5-year average annual EPS growth rate is 18%. The company had EPS of $4.95 for FY end 2015. Using the 18%, projected 2017 EPS is $5.84. This is a reasonable estimate because Yahoo! Finance has Disney's TTM EPS of $5.47.
Graph 1 shows Disney's y/y EPS growth rates between 2011-2015. Data was derived from Morningstar and graphed as shown below.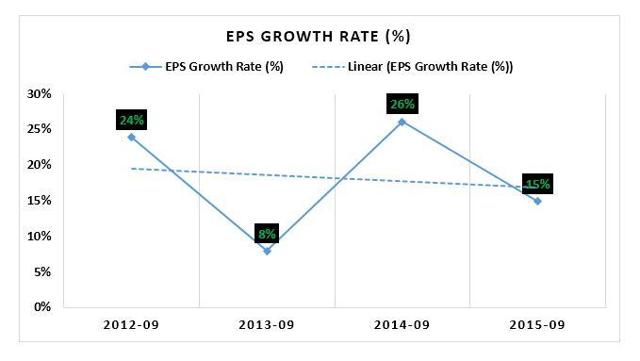 To estimate a fair value for Disney, we also need to consider the impact of dividends. Because aside from stock price appreciation, Disney also returns value to shareholders via dividends and stock buybacks. Disney has grown dividends 27% y/y, on average, in the last decade. I opted to use lowest growth rate (15%) in the last 3-years over the 27% y/y average for two reasons: (1) 2017 dividend estimates using 27% are too high and (2) growing global uncertainties such as slow economic growth and the post-Brexit ramifications, might hinder growth.
Graph 2 showing Disney's dividend growth between 2006-2015. The company has grown dividends at an average of 27% y/y in the last 10-years. Data was taken from Morningstar and graphed.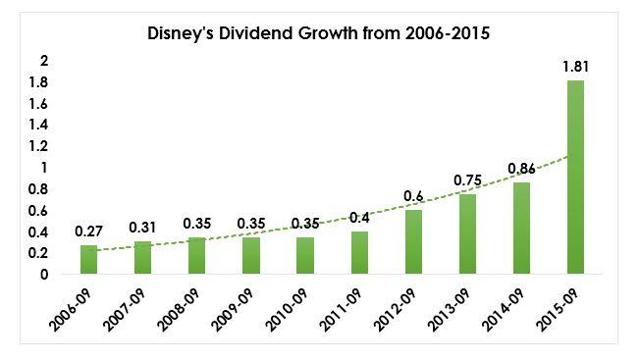 Yahoo! Finance has Disney's forward 2017 P/E ratio at ~16x and I am using $5.84 as my calendar 2017 EPS. Capitalized at 16x and accounting for $2.08 in dividends, we generate $126.72 in expected value, 32% upside to Disney's current stock price.
Disney's Buena Vista studio's 31.4% market share
Disney's Buena Vista is currently leading in sales at the box office.
In the last 6-months, Disney's studio Buena Vista has produced the highest grossing movies, in aggregate, for 2016: Captain America: Civil War, The Jungle Book (2016), Zootopia, Finding Dory, The Finest Hours and Alice Through the Looking Glass. Other great hits from late 2015 which brought in revenues in 2016 include; Star Wars: The Force Awakens, The Good Dinosaur and Bridge of Spies.
These Box Office hits have allowed Buena Vista to command a 31.4% market share, in revenues, at the Box Office for the first 6-months of 2016. Considering that from January 1 - June 19, 2016, the Box Office has grossed $5.178 billion, it implies that Buena Vista has grossed ~$1.63 billion in the last 6-months. This is a great deal for the studio because it grossed $2.28 billion in 12-months (FY2015). Meaning that Buena Vista has managed to make ~70% of what it made in 12-months last year in just 6-months this year. I think this is a great start for Disney because the Studio Entertainment segment contributes 14% of Disney's total revenues. A good sign that 2016 can be a great year for Disney's Studio Entertainment segment and subsequently Disney's stock price.
The Shanghai catalyst for 2016 & beyond
Besides the Buena Vista catalyst, the recently opened Shanghai Disney Resort is poised to be cash-generating machine. The resort was opened on June 16 of this year and it is a testament of Disney's good relationship with the Chinese government. An advantage that mitigates some of the China risks most global firms face in the mainland. Moreover, the resort also has a geographical advantage. More than 330 million people live within a 3-hour drive or train ride from the resort. This easy access and proximity to the resort is set to be a great traffic driver to the resort moving forward.
Key player & disruptor of traditional TV
The other important growth catalysts for Disney will come from its role as a key player and disruptor of traditional television. This is related to Disney's Media Networks which accounts for 44% of Disney's total revenues.
One critical advantage Disney has is the ability to create great content. This ability has allowed Disney to efficiently sell content direct to consumers through ESPN, Disney Channels, ABC Family, Hungama, UTV/Bindass Networks etc.
In addition, Netflix has seen heightened valuations for its role in disrupting traditional TV. The market has given it a high premium for investing in original content and focusing on mobile. The same things Disney has been doing for years. Disney owns a 33% stake in Netflix's closest competitor, Hulu LLC ("Hulu"). Statista puts Hulu's revenues for FY2015 at ~$1.5 billion, 4.5x less than Netflix's $6.77 billion FY2015 revenues. There is tremendous value in Hulu. If Hulu had 4.5x less the market cap of Netflix, it could be worth ~$8.57 billion (About $2.83 billion for Disney's share).
Furthermore, Disney's topline growth is in part driven by selling content to disruptors of traditional media. For example, Disney sells programming developed by its cable networks in television markets to subscription video-on-demand ("SVOD") services such as Netflix, Hulu and Amazon. This enables Disney to make money from selling content directly to consumers and through middlemen. These avenues allow the company to maximize sales and benefit from a shift in consumers viewing habits.
Potential to create new IP's from existing IP's.
Furthermore, Disney has been focused on growing shareholder value by making accretive acquisitions: Capital Cities/ABC Inc., Pixar, Marvel and Lucasfilm. This has led to a powerful Intellectual Property ("IP") portfolio and growing value for shareholders. The other advantage of this IP portfolio is its ability to continue generating value through movie sequels or the potential for creating new IP's by combining superheroes from different superhero movies e.g. The Avengers and Captain America: Civil War.
(Author's Analysis with data derived from Morningstar)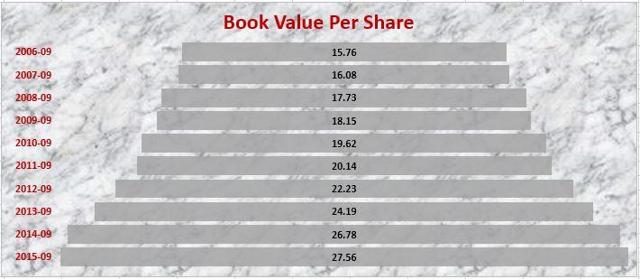 Lastly, Disney's diverse business segments are a great hedge for investors: Media Networks, Parks and Resorts, Studio Entertainment, Consumer Products and Interactive. Given the diverse nature of the business, the stock price decline, the Buena Vista 6-months gross revenues, the Shanghai Disney Resort, dividends surge and growing IP portfolio, makes Disney's stock an attractive bet.
Conclusion - great & shareholder friendly management
Another important point to remember is that Disney has, thus far, had great management. These guys are visionaries; staying ahead of trends and creating the future. Back in 2006 when Disney acquired Pixar, piracy was at its peak. Other media empires were running away from spending billions on IP because of piracy. But Disney saw the potential ahead and it is still paying-off handsomely.
(Author's Analysis with data derived from Morningstar)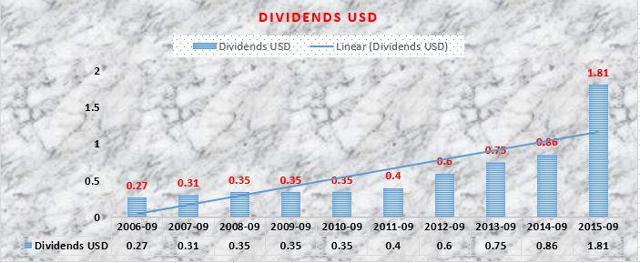 Management has grown dividends by an average of 27% y/y since 2006. In between, Disney has issued billions of dollars in stock buybacks in an effort to increase shareholder returns. And because of its superb performance, Disney's stock price has surged by 228.71% in the last 10-years. Considering that the stock is way below its high's, down 15% in the last 12-months and the potential 32% upside, this is a great opportunity to buy a superior business at undemanding valuations.
Is this article helpful ?
---