Facebook's Growth To Be Stifled
 Facebook needs big growth in the east to sustain its growth path. Its "Internet.org" project currently being rolled out in India will be interesting to see how the rollout pans-out.
Plans are afoot in Europe to change privacy rules which would make life much more difficult for Facebook. Belgium has already launched a lawsuit.
The US is due a recession. E-commerce barely grew in the financial crisis from 2007-2009. I can't see Facebook gaining much more traction when advertisers budgets get cut.
Facebook (NASDAQ:FB) recovered well last week after dropping to $82 a share. Bullish investors have become even more bullish with the recent announcement by Mark Zuckerberg where he stated that on the 23rd of August, Facebook had 1 billion users on its platform which was a milestone. This company continues to grow users and revenues even though both metrics are slowing. Essentially users have become the "products" of this company. Facebook's whole identity is to grow its user-base on a global scale even if it needs to lift drones to an altitude of 90,000 feet in order for new users to have access. It just shows how valuable each and every user is to this company.
Also see: Facebook Stock Analysis Video evaluating Facebook fundamentals.
Once Facebook gets you hooked up, It is all about gathering information (which it is an expert at) so advertising can be targeted more effectively. Where Facebook has really gained traction recently is its Facebook Connect platform where users can post comments on third party sites but still through the Facebook platform. This is a win-win for the third party site and Facebook because Facebook gets more information about their user and the third party site has a bigger opportunity in making a sale because the user is engaged. Nevertheless the average time spent by a user currently on the Facebook platform is 46 minutes which appears short in the grand scheme of things. Personally, I see things getting a bit tougher for this company. Let's go through a few reasons why.
Firstly, Facebook's "Internet.org" rollout is already coming up against some problems in some countries such as India as governments are opposed to social media companies becoming gatekeepers to the internet. Facebook is masking what it is doing to some extent by stating that "Everyone on Planet Earth is entitled to access the internet". I fundamentally agree with this but disagree with the social media company being at the forefront of this project. Furthermore "Internet.org" only contains access to a handful of sites meaning that the social networking platform is heavily favoured.
What is really happening here is that this project is being sold under the umbrella of "providing free internet to people in poor parts of the world" but it is just to grow Facebook's numbers especially outside the US where it derives 45% of its revenue. We all know that the next wave of growth in the world is going to come in the East. India has a population of 1 billion+ and China 1.3 billion. Investors should also remember that Facebook's stock is currently trading with a PE ratio of 95 which is very high. One would have to assume that major user growth is already priced into this stock but will it come? I'm waiting to see how things play out in India where the project is still going through an "Internet Neutrality" debate even though Facebook wants to open up the number of websites in the program. If the project turns sour, it will definitely have repercussions and raise questions as to where the growth is going to come from going forward.
Secondly, Facebook is coming up against regulators in Europe where some countries such as Belgium are unhappy with how the social media company handles personal information of the citizens. Nevertheless the current EU legislation is helping Facebook as the respective data protective authorities in the individual countries don't seem to be able to pursue cases against international online companies because Facebook for example is run in Europe from Ireland. In the Netherlands, Germany, France and Spain, there are more cases where data protection authorities maintain that the social media giant has broken privacy rules.
Investors should remember here that the more targeted the social media platform is, the more interest it will garner from advertisers. If indeed new legislation comes on stream in the EU that will let respective countries defend their own national privacy laws, you would feel that the Facebook platform would be less interesting to advertisers as less valuable information would be gathered. The new proposed legislation would mean than online multinationals such as Facebook would have to pass a set of stringent conditions in each country which you would feel would lead to slower growth in users. Furthermore fines for infringement would be very high which for me adds up to Facebook being less successful in their information gathering efforts.
Finally, this company is going to be heavily affected also by what happens on the macro front (especially the US economy). Have a look at the chart below which depicts online commerce rising sharply over the next few years.
E-commerce sales forecast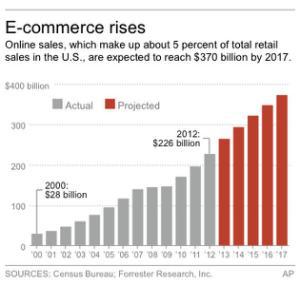 Web sales actually reached $304.91 billion last year but what is more evident to me was the lack of growth in the recession years (2007-2009). Now the Fed is quickly coming to a point whether it will raise rates, continue to do nothing or actually announce another round of quantitative easing (especially if we continue to have all this volatility in the market). In my view, the last 2 potential decisions will turn out bad for the US economy. If the Fed bails against next month regarding raising rates, I think you are definitely looking at a recession soon in the US. Numbers have never been better in the US since the crash of 2008. Unemployment is at record low levels, job creation every month is strong so what is stalling the Fed, only inflation? I believe the Fed knows that the economy is not as strong as it appears but the longer they don't act, the more nervous investors will become. Facebook stock for me would be one of the first to fall in a recession because of the run-up tech stocks have had in the past few years.
Furthermore online sales globally have been rising sharply since Facebook came out with its IPO. This stock trading at 100 times earnings with much higher unemployment levels would definitely stop this stock from a further rally one would think.
Is this article helpful ?
---