How Instagram Is Going To Drive Facebook Stock Higher
Instagram is a photo sharing app which was acquired by Facebook for $1.0 billion in 2012.
In recent times, Instagram has become a key revenue contributor for Facebook.
Moving forward, Instagram will enrich Facebook's valuations and enable core-Facebook to innovate.
Instagram is a mobile photo-sharing app that was acquired by Facebook (NASDAQ:FB) in 2012 for ~$1.0 billion in cash and stock. Over the last 4-years, Instagram has made great progress:
As of Q4 2015, Instagram had north of 400 million monthly active users.
As of 02/24/16, Instagram announced having more than 200,000 advertisers. That is 70,000 advertisers more than Twitter.
As of Q4 2015, I believe Instagram has started to contribute significantly to Facebook's total revenues.
These positive trends are more likely to continue. Instagram will add tremendous value to Facebook in the long-term. Here's why.
I believe that Instagram's high growth rate will serve a dual purpose: It will allow room for Facebook to innovate with less scrutiny from Wall Street and it will enrich Facebook's valuations as its monetization efforts become more and more successful.
Instagram's Revenue Growth
Instagram is scheduled to beat Google in mobile display ad revenues: In a study conducted by eMarketer last year, Instagram's mobile ad revenues are projected to reach $2.81 billion worldwide by 2017. Meaning that Instagram is projected to surpass Google and Twitter in U.S. mobile display ad revenues by 2017 according to eMarketer.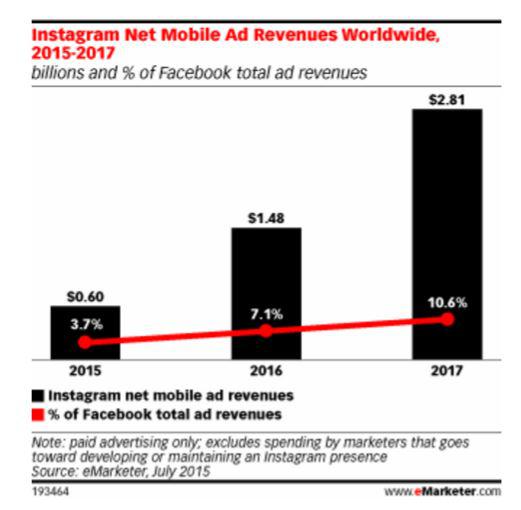 Source: eMarketer
I believe that eMarketer's research might be spot on, because of the importance Instagram suddenly gained in Facebook's Q4 2015 earnings call transcript.
Facebook does not break out revenues for Instagram. However, during Q4 2015, Facebook's revenue growth narrative changed from how "core Facebook" is driving growth to how "core-Facebook and Instagram" are driving the company's growth. Sheryl Sandberg mentioned that Facebook and Instagram drove the company's recent 81% y/y increase in mobile ad revenue in Q4 2015. She went on to state that "Facebook and Instagram drive business results for our partners, helping their products off shelves online and offline."
Why This Is Good For Investors
We believe that core-Facebook is currently in a state of experimentation. Some of the projects the company has been rolling out will require more time to show results. But because the company has to report every quarter, I believe that investors might be overlooking the big picture. This is why I like Instagram. I see Instagram stealing attention from core-Facebook, as investors focus on its growth and revenue contribution going forward.
"We're also very pleased with the growth in advertiser adoption of Instagram and the positive results advertisers are seeing from their investments. 98 of the top 100 advertisers on Facebook also advertised on Instagram in Q4." - Sheryl Sandberg, Facebook's COO during the company's Q4 2015 earnings call.
In the end, it will give Facebook's new initiatives such as Facebook Stadium, Facebook Reactions, Facebook At Work and others, time to materialize.
Instagram Valuations
Facebook has grown into a powerful social media conglomerate. Valuing Facebook as one entity might discount the fact that it is a diversified social media entity. We cannot ignore the value of Instagram, WhatsApp, Oculus VR etc.
Instagram recently reached a new milestone of 400 million monthly active users. Instagram's relative valuation varies considerably:
Instagram high-end: Core-Facebook has more than 1.59 billion MAUs and the company is valued at $292.7 billion as of February 19th, 2016. Each of Facebook's MAUs is valued at ~$184 and that would mean Instagram's valuation should be about $73.64 billion.
Instagram mid-range: Despite currently being a depressed stock that has declined by more than 65% from its 52-week high, Twitter has 306 million MAUs and trades at $13.21 billion dollars. Each of Twitters MAU is valued at ~$43 and that would mean that Instagram is worth about $17.27 billion.
Instagram low-end: Based on the eMarketer study, Instagram is projected to bring in $1.48 billion in revenue in 2016 fiscal year and $2.81 billion in revenue in the next fiscal year. Meaning that at 10x sales, Instagram would trade at ~$15 billion on projected 2016 sales and ~$28 billion dollars on projected 2017 display ad revenues.
Facebook does not offer Instagram specific numbers, therefore, we cannot accurately gauge its worth. However, as Instagram continues to contribute more to Facebook's revenues and as it continues to attract more ad revenues, I am certain that Instagram's valuations will help lift Facebook valuations as well. This is why Facebook's valuation might get richer not too far down the line.
Conclusions
I believe the market has not yet started to take into account Instagram's valuations. Facebook is down ~9% in two weeks in spite the fact that they smashed the street's highest estimates on both the top and the bottom line. As Kevin Landis, CEO and Chief Investment Officer at Firsthand Capital eloquently put it:"It's doom and gloom all around us and these guys are just killing it."
Instagram is likely to boost the value of Facebook's stock. Facebook is nearly a $300 billion company and yet it is growing like a start-up. What value do you put on a behemoth that just grew its Q4 EPS by 46% y/y and revenues by 52% y/y?
Instagram moments is good for Facebook investors: It will enrich Facebook's valuations, enable core-Facebook to innovate and aid Facebook in margin expansions.
Is this article helpful ?
---