This Could Hurt Facebook Inc (FB) Stock In The Long Run
For Facebook Inc, Virtual Reality is a step away from the core.
Virtual Reality (VR) is not a new innovation.
VR is a form of unrelated diversification for Facebook.
VR may potentially do more harm than good to Facebook Inc.
Although there is a lot of hype surrounding Virtual Reality (VR) and Facebook's (NASDAQ:FB) Oculus Rift, I have to say that this is not a game changer. In fact, it has been around before. Nintendo was one of the first companies to do this with their virtual boy. However, the outing was considered a colossal failure due to the high price and nascent technology. As times have changed, the capabilities of this technology have gotten better. However, pricing may be the ultimate determinant of who succeeds or wins. Here's why the Oculus acquisition may turn out to be a bad move and may hurt FB stock.
Just Another Accessory
Unfortunately, the use of the "virtual reality" is pretty limited. All I see implemented is a wave of first person games with the virtual reality headset. For the consumer, there are a lot of choices out there, and it is evident that most outings are inclined towards the gaming communities.
(Source: PC Magazine)
Personally, I have tried a VR headset and got bored with it after 2 minutes. It really did not feel that immersive. It leads me to the interpretation that VR is nothing more than an incremental innovation based off of the first person view counterpart. Additionally, it can be considered an accessory similar to the motion controller add-ons for the Nintendo Wii. Just as one had to keep paying money to experience the full range of motion control experiences for the Nintendo Wii. The same thing is occurring with VR. Due to the Oculus Rift's already high price point, the cost of accessories may result in individuals going for the cheaper console alternative, Playstation VR.
Also Read: Shorting Facebook Inc. (FB) Stock Now Could Be a Disastrous Move
Competitive Advantage
There are many reasons why Facebook may not have a competitive advantage with the Rift.
Firstly, the market share of VR is in Sony's territory, not Facebook's. Sony has a 30% market share, almost triple of Facebook's. It was one of the last to join the VR market. This is a perfect example of second mover advantage. It is one of the reasons why sustainable competitive advantage is nonexistent. Once the technology becomes available in the market, imitators will come and the maximum revenue generation will decline rapidly.
Secondly, Facebook's Rift lacks the value creation and capture for its market segment. Media reviews, which do have an impact on product perception, clearly favor Sony's VR. Features such as a lighter and more attractive design and quick setup cater to the gaming demographic. As a former gamer, I can tell you that we like plug and play. We do not want to think.
As stated before, the Red Ocean pricing strategy implemented by Sony is most likely winning over customers in addition to the ease of use. At $400, the price is affordable compared to the Oculus Rift.
Diversification
Now I want to consider the Oculus acquisition from a theoretical perspective. Because the Oculus is not a true core alignment in the social media space as Instagram and Whatsapp, this leads me to conclude that this is a form of corporate diversification in an unrelated market segment. Research has shown that unrelated diversification has a tendency to have a negative impact on firm performance and typically has a 70% failure rate. Failed acquisitions on average are divested within 7 years. Failure is due to reasons that may seem obvious but are not. Some of the reasons include but are not limited to: overbidding and paying a premium, managerial hubris, unrealizable synergies, and a nonexistent future. (See Also: FB Stock: This Catalyst Will Drive Facebook Inc. Stock Higher In 2017 And Beyond)
How Facebook Can Succeed
Facebook needs to focus on its core - social media. Only one company, Berkshire Hathaway, has been consistently successful in pursuing unrelated diversification. It is a rarity.
I have highlighted the most prominent social media platforms as of September 2016.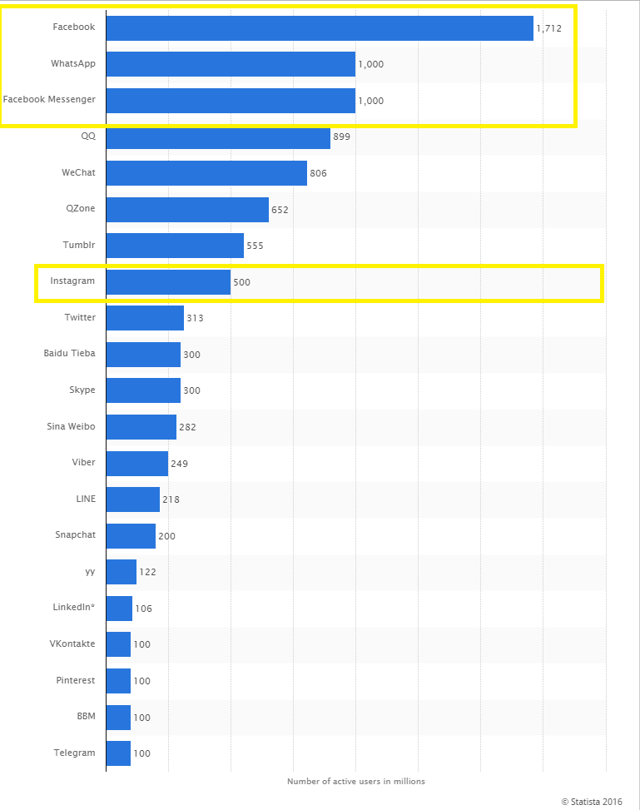 (Source: Statistica)
The numbers do not lie with Facebook's social media platforms. It needs to focus on these areas, not gaming. Just ask Microsoft. Even though they have been into gaming for a while, they still cannot manage to ink a decent profit. However, when Microsoft got back to its PC business, profits began to increase. It linked the cloud, mobile, and PC together to form an integrated ecosystem. The same integration occurred with Facebook's social media acquisitions. The VR move appears difficult to integrate into the Facebook ecosystem.
Evaluating winning tech stocks? Check out our top stock picks, which have beaten the NASDAQ by well over 100%.
Is this article helpful ?
---