In China's New Normal Alibaba Is The King
There has been a lot of turbulence created by the fear of China's slowing economic growth. This fear has been detrimental to companies with China exposure.
But China's slowing economic growth is not a sign of decline but a sign of transition.
This transition is epitomized by the stellar performance of a company dominating the service industry - Alibaba. Alibaba stock offers an opportunity to capture the growth in China's "new normal."
According to a London School of Economics policy brief, the "new normal" focuses on domestic consumption.
"...The new model places a strong emphasis on: shifting the balance of growth away from heavy-industrial investment and toward domestic consumption, particularly of services."- London School of Economics, Policy Brief 2015, "China's 'new normal': structural change, better growth and peak emissions."
In early 2014, China's President Xi Jinping was quoted by Bloomberg saying that China must adapt to a "new normal" while preventing risks and taking "timely countermeasures to reduce potential negative effects." Understating this notion of the "new normal" is critical in assessing China's current economic slow-down and in examining the way forward.
Looking forward, you will realize that China's economy is in a state of transition from an old to a new economy. Opportunities in the country have not disappeared but merely shifted. And you have to realize that Alibaba (NYSE:BABA) is king in this new economy.
The Fall of the Old Economy
China's investments towards heavy industries will continue to decline. In the first decade of the 20th century, China's coal consumption grew 9-10% per year. By 2013, China was producing 50% of the world's steel and nearly 60% of the world's cement. But China is moving towards better quality growth.
Meaning that economic growth rate will continue to diminish as the country makes the transition from an investment to a consumer focused economy. This is why as of 2014, the service sector accounted for ~48% of total GDP from ~40% in 2000 while the industry sector declined from ~46% to ~43% by 2014.
(Source: Statista - China: Distribution of gross domestic product across economic sectors)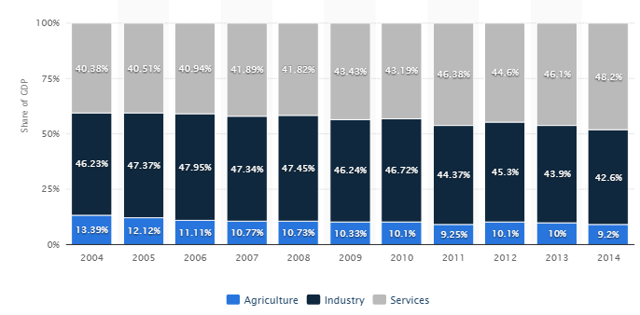 A KPMG report "China Outlook 2015" stressed on this idea that the service industry in China has been growing faster than the secondary industry. In what they called the emergence of a "new normal" for China's economy, China's manufacturing sector is projected to face further tailwinds as the economy transitions into a consumer focused economy.
Everyone Will Eventually Want A Piece of China
China's economic growth rate is not bad for a $10 trillion economy. We can compare China with respect to GDP. China is the second largest economy (~$10 trillion) by GDP behind the United States (~$17 trillion) and ahead of Japan (~$5 trillion).
Source: Authors analysis with data from the World Bank December 2015 "Economy & Growth"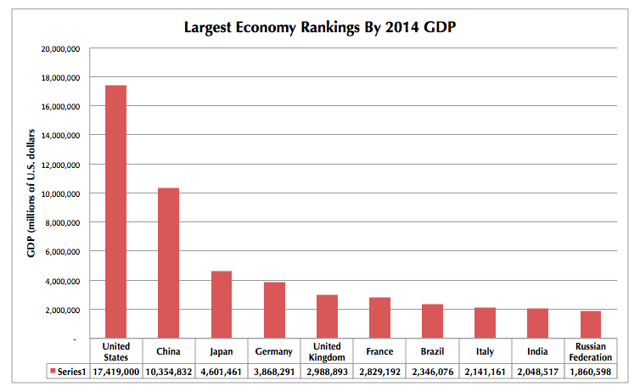 China has been the fastest growing economy (by annual GDP growth rate) among the top 10 largest economies in the world in the last 20 years.
(Source: World Bank GDP Annual Growth Rates From 1996-2015)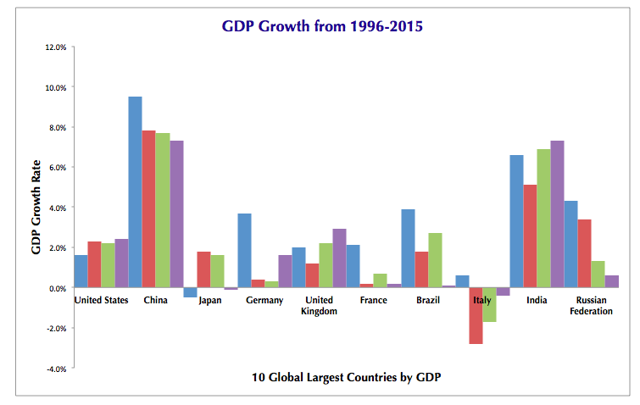 But the countries closest to China's GDP are growing slower. The United States, for instance, is only growing at 2.4%, Japan is declining at -0.1% and Germany is only growing at 1.6%. Relative to the largest economy and the third largest economy, China's growth rate is still very high.
An important question we should consider is that, Is it possible that the economy has matured and it is now growing at a sustainable but low growth rate like the United States and Germany?
(Source: World Bank GDP Annual Growth Rates From 1996-2015)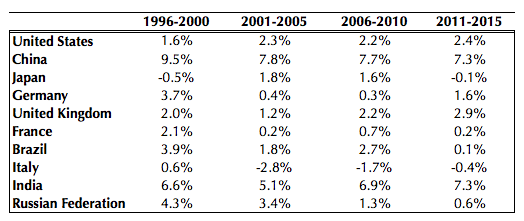 Size limits pace of economic growth. Another way to think about this is the fact that a 2% growth on a $100 investment is better than a 10% growth on a $10 investment. As China's economy matures, GDP growth should, by all accounts, slow down but the aggregate gain in GDP growth is still more attractive.
Another important point to note is that regardless of the projected growth rate being assigned to China today (from 3%-6%), assuming the U.S. GDP grows at an average of ~2.4%, China will become the largest economy in the world by GDP by 2036.
(Source: Authors analysis, data from World Bank)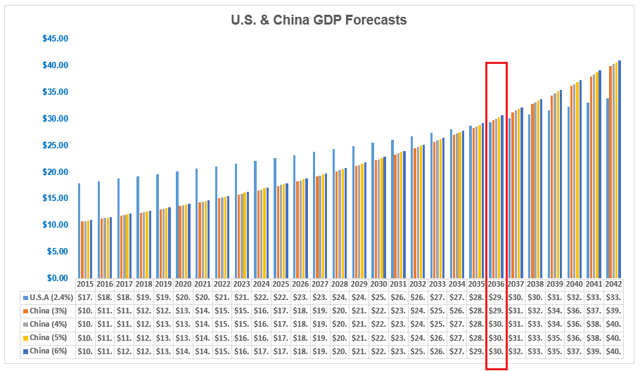 The Rise of The New Economy
While the manufacturing sector saw a lot of job cuts in the fiscal year 2014, the service sector added 17 million jobs. This is why companies in the service sector such as Alibaba and JD.com have been performing well amidst China fears.
Take Alibaba for example, despite growing concern that it will underperform, the company produced strong top line growth numbers. Consumer retail sales in China grew 10.7% in 2015 and Alibaba's online penetration grew 10.7% y/y. In addition, the company saw its GMV growth improve by 30% y/y. More so, Alibaba saw an improved omnichannel integration contributing to the 35% y/y revenue increase from its core China retail business. This past quarter, Alibaba saw its international expansion efforts start to take flight. Tmall Global, for example, saw global imports increase by 179% y/y.
To quote the words of Kevin Landis, CEO and CIO at Firsthand Capital in reference to Facebook, "It's doom and gloom all around us and these guys are just killing it."
But this past quarter was not the only time people expected Alibaba to miss on estimates. On Singles Day, for example, the street was expecting Alibaba to perform in line with the $9.3 billion in 2014 Single's Day sales. But the company beat estimates in the first 14 hours of 2015 Single's Day and made $14.3 billion in record sales. The same thing happened in Q216, Alibaba beat estimates as revenues increased by 32% y/y. In addition, the same thing is happening now, Alibaba just beat estimates in its Q316 results but Alibaba stock took a beating. The trend is clear, China's economy is transitioning and companies in the service industry such as Alibaba have already started reaping the rewards.
Looking Ahead
" It is manifest that the best political community is formed by citizens of the middle class, and that those states are likely to be well-administered, in which the middle class is large." Aristotle, 306 BC
By 2030 around one billion people in China could be middle class. That would be equivalent to ~70% of China's projected population by 2030. The China-Britain Business Council report, "China's Middle Income Consumers" made some interesting estimates:
China's household consumption to triple in the next 10 years.
70% of all household consumption will come from the middle income consumers.
(Source: Ernst & Young - China and India: Tomorrow's Middle Class)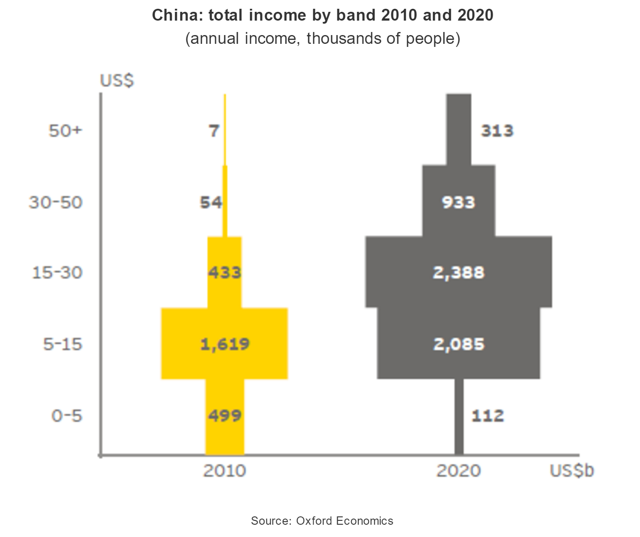 We have to pay attention to the new trend. China's middle class is expanding, their spending is expected to triple, their economy is on its way to becoming the largest economy by GDP in the next 20-years (ceteris paribus) and while their heavy industries shrink their service industry is growing at astronomical rates. And the best way to capture this trend early on is by owning Alibaba stock.
Alibaba owns 80% of the ecommerce in China. The company has always adopted what works and tailored it to fit the Chinese market.
Amazon and eBay worked and so they adopted the concepts but shifted the focus on advertising rather than charging commissions.
Alipay, an online payment system similar to PayPal, Juhuasuan, a flash sale site similar to Groupon.
Other ventures the company undertook include; a stake in Sina Weibo - the Chinese equivalent of Twitter, Didi Kuaidi - the Uber of China, Youku Tudou - the Chinese version of YouTube, Tmall Box Office ((TBO)) - the Netflix of China, among others.
The aggregate value of its investments will keep growing over time. Alibaba has enough cash to pursue more accretive acquisitions, it has beaten estimates consistently despite deteriorating economic growth in China and it is better positioned to benefit from China's "new normal."
A Government Supported Trend
One of the biggest risks with Chinese investments relates to the government. The rules and regulations can be hard to follow because there is always the risk that the government can suddenly intervene and change something. That is why better plans with attractive risk/reward profiles in China need to have the blessing of the government.
One such plan is having a consumer driven market. China's 2025 vision focuses on that. The country has recognized the inevitable trend. The changing economic sector that requires a different focus. This recognition has caused them to enact policies that will make it favorable for companies in the service industry. Making the service industry a very attractive area in China.
Is this article helpful ?
---