Is Sprint Stock A Value Play?
Sprint stock price took a nosedive because of its growing debt.
But over time the reasons for the decline have been spurred by Sprint's liquidity: Ripple effects from the high yield bond market and the current "cash is king" mantra.
With the decline, the only progressive question hinges on Sprint's ability to cover its debt obligations.
Sprint (NYSE:S) is what you would call a value play. The company trades at ~43% below its book value per share and it is ~46% below its 52-week high. But this is not merely a market mispricing. Sprint trades at such low valuations because of its low credit rating.
Last year, Moody's downgraded Sprint six levels below investment-grade, citing the uncertainty of whether or not the capital markets would be receptive to any additional funding for the company.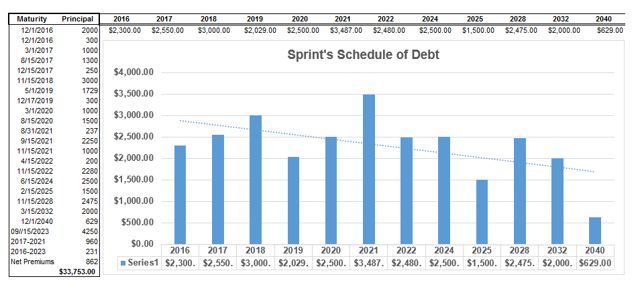 Source: Authors analysis based on data from Sprint's newsroom
Sprint has a massive debt burden of $33.773 billion due in the next 26 years as shown above. Sprint's debt maturities will start ramping up significantly starting in December of this year when an aggregate of ~$2.3 billion senior notes mature.
When you look at the schedule of debt maturities above, you will notice that the period between 2016-2024 is the most critical. From 2024 onwards, the debt maturities are well spaced out and Sprint should have enough cash flow and a better credit rating to cover those costs. But since these debts are not all maturing at the same time, we have to ask;
Can Sprint manage to pay off its debt obligations in the next eight years?
This question is critical because Sprint's credit rating, its default probability, its future profit outlook and the mere survival of the company hinges on this very question.
Debt Financing Means Within Sprint's Power
Currently, Sprint has enough liquidity to cover all debts maturing between now and 2017 with $1.15 billion to spare. The aggregate principal amount of the debt maturing between now and end of 2017 is $4.85 billion and Sprint has $6 billion in current liquidity.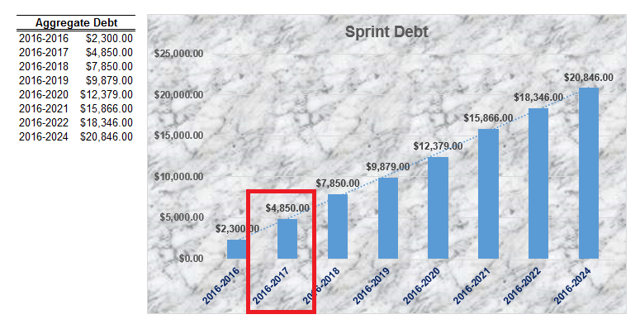 Source: Authors analysis with data from Sprint's Q3 2015 Press Release
According to Sprint's Q3 2015 earnings transcript, Sprint has general liquidity of $6 billion, comprised of cash, cash equivalents and short-term investments of $2.2 billion, $3 billion of available borrowing capacity under their revolving bank credit facility and $800 million of available capacity under their receivable facility at the end of the quarter.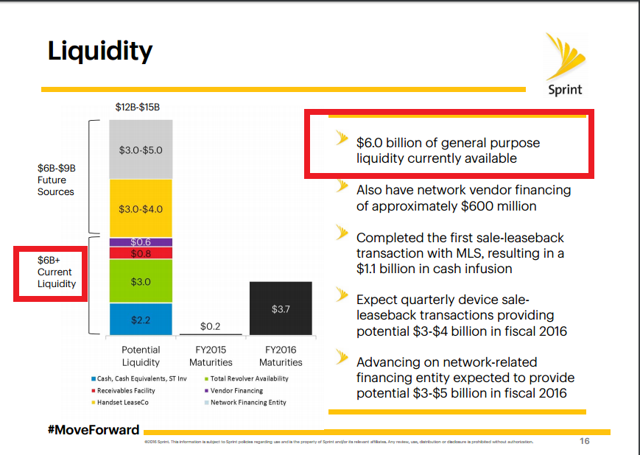 Source: Fiscal Q3 2015 Earnings Presentation 
In addition, Sprint predicts to add $2 billion or more to its FCF, ceteris paribus, through reductions in its operating expenses. But the caveat here is that the company "would be spending $1 billion to achieve that run rate of $2 billion of cost savings." So the net gain is $1 billion not $2 billion dollars.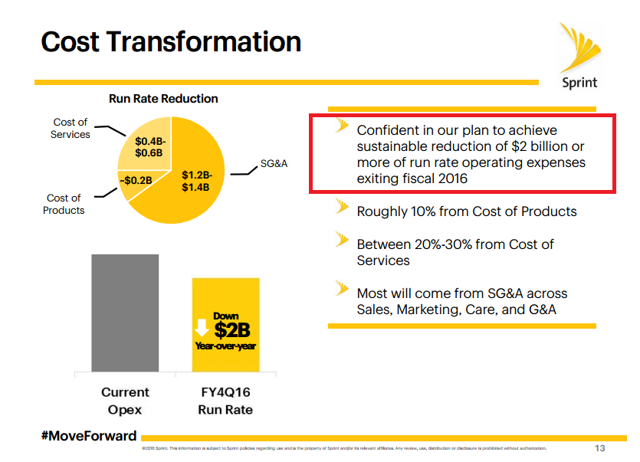 Fiscal Q3 2015 Earnings Presentation
Furthermore, Sprint's FCF improved by more than 55% in the last 12-months. The improvement was driven by $800 million received under its receivable facility. In spite of this huge improvement, FCF was still -$797 million but this does not include the $1.1 billion in proceeds from the sale and leaseback transaction with Mobile Leasing Solutions in December. That then leaves Sprint with ~$303 million in FCF.
But since Sprint has $6 billion dollars of liquidity currently available to cover a total of $4.85 billion debt between 2016-2017, that leaves it with an extra $1.15 billion dollars to put towards the $3 billion worth of debts maturing in 2018.
Add the $1 billion dollars from the run rate cost savings and the $303 million net of Q32015 FCF from the sale and leaseback transaction with Mobile Leasing Solutions, Sprint will only need $547 million extra to cover all principal payments of debt maturing in the next three years.
Because Sprint can effectively go through the next three years without a need for external funding, we are likely to see its credit outlook to improve and subsequently its future financing needs fulfilled.
The Company's Projections
My assessment above does not take into account Sprint's sources of liquidity that might be outside of its control. Projections are less certain. But if we use the company's projections, the picture becomes much better.
Sprint expects to have between $12-$15 billion in liquidity by the end of this fiscal year.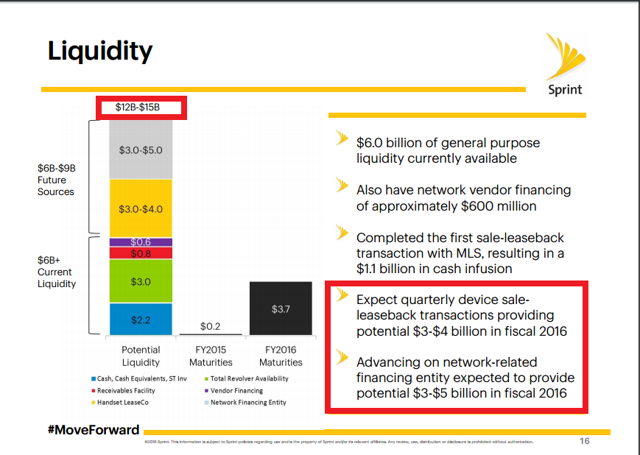 Source: Fiscal Q3 2015 Earnings presentation
$12-$15 billion in liquidity is enough to cover the total aggregate principal payments (which is $12.379 billion) of the debts maturing between 2016-2020.
These projections are based on the lower range of the company's estimates and they cover any major delinquency concerns stretching five years from now. Anything after 2020 is anyone's guess. My opinion is that, by then, Sprint's credit outlook will improve and its FCF will be much better.
With regard to the purchase of 2.5 GHz network equipment. There has been concerns that Sprint will need more financing that it does not have. But according to the Q3 2015 earnings transcript, the company has $600 million available under its network vendor financing to be utilized towards the purchase of 2.5 GHz network equipment. In addition to the $600 million, Sprint also has another $500 million becoming available in April.
Sprint Valuations Are Not A Function Of Depressed Fundamentals
The market is currently a volatility nightmare. Many people have been opting for cash. In a cash driven environment, people have to sell what they can.
This is where Sprint comes in. Sprint is the biggest issuer of bonds in the high yield bond market accounting for ~2% of the $1.2 trillion of the U.S. high yield bond market. This has caused more problems for the company as it has led to overselling. As Priscilla Hancock, strategist at J.P. Morgan Asset Management said, "one of the reasons you are going to see them (Sprint) trade down so much is that they are so liquid." Because of its liquidity, Sprint's bonds have and are likely to see more volatility and prices are likely going to be further depressed because people need cash.
But I think these bearish sentiments from the high volatility and price contraction of Sprint's bonds have migrated to the equity markets.
This is so because Sprint's stock price declined when they announced cost saving initiatives. This is counter-intuitive because a highly levered firm is always in dire need of extra cash and substantial cost savings should reflect a much better credit outlook for the company.
Risk Forecast
It is good to be realistic about the potential growth of Sprint. It is the fourth largest carrier in the U.S. and this comes with a number of disadvantages. New users are more likely to settle with the first or second largest carrier than the fourth. This makes it harder for the company to expand faster through the acquisition of new users.
This is why they need to have compelling promotions and ensure better customer service to reduce their churn rate, which is essential.
Besides, Sprint is not the oldest carrier in the United States. Meaning that people who use family plans might have grown up with the oldest carriers such as AT&T, making it more likely for them to drag their kids who drag their kids into the AT&T ecosystem.
More than that, the other competitors are not sitting around waiting for Sprint to snatch their market share. This makes the market more competitive and limits rapid growth prospects. This is why stable revenue growth, better services and cost-cutting initiatives are the lifeline of Sprint moving forward.
The 100% Minimum Upside Potential
There is no analyst on the street who is actually bearish on Sprint stock. Do not get me wrong, there not many buy ratings but the most skeptical analyst on the street based as per Yahoo Finance has a $6/share price target for Sprint stock. The $6/share target price or a ~100% upside to the current stock price is the lowest price target from a list of 21 brokers surveyed.
Besides, the mean price target is $7.28/share or ~149% upside and the high price target for the company is $9.00/share or ~200% upside to the current Sprint stock price.
Conclusion
Sprint's better credit outlook is not the only positive for the company. Bloomberg Intelligence estimates Sprint's 2.5 gigahertz spectrum to be worth between $86 billion to $115 billion. Therefore the company can tap into its spectrum to unleash extra cash should any major liquidity concerns arise. The spectrum can be worth 60% less and still be more than enough to cover Sprint's entire debt.
Besides, the latest quarterly report was reassuring.
Post paid subscribers, which are the numbers that matter, are going up.
Churn is going down, best ever in 20 years.
Its postpaid phone net additions was the highest in three years.
It raised guidance due to stabilizing revenues and successful cost reductions.
Network performance improved. Network performed at best-ever levels across voice and data metrics and delivered faster download speeds than AT&T, Verizon and T-Mobile.
The company is meeting every metric of its turnaround story. Its most bearish street estimate implies a 100% upside to the current stock price, it trades at ~43% below its book value per share and the key reason for its decline - liquidity concerns - is no longer a great concern.
Is this article helpful ?
---