Is The Recent Yum! Brands Credit Downgrade Just The Tip Of The Iceberg?
Standard

&

Poor recently

pushed

Yum

!

Brands'

credit

rating

to

junk

territory

, and

its

new financial policy of ~5x leverage will trigger another downgrade from 

Moody's.

T

here

is

a

chance

that

Yum! Brands'

might

go

beyond

the

5x

leverage

ratio

to implement its $6.2 billion buyback program and grow stores three-fold worldwide.
However, this might be mitigated by Yum! Brands China spin-off, post-spinoff management incentives, buybacks and debt restructuring plans.
Earlier this month, Standard and Poor (S&P) downgraded Yum Brands (NYSE:YUM) bond rating to junk. The rating agency cut Yum! Brands corporate credit rating to "BB" from "BBB." The three-notch reduction pushed the restaurant chain's bond rating into junk territory. In recent times a host of stocks have seen big downgrades, including Apple. However, the concerns are far more serious here. S&P cited concerns that Yum! Brands planned buybacks and dividends will probably require more debt.
The downgrade primarily reflects our expectation of the company's meaningfully higher leverage as it executes on its newly communicated financial policy with a leverage ratio of about 5x, which results in our assessment of its financial risk profile as "highly leveraged". We continue to view the company's business risk profile as "strong".- Financial Times
But there might be threats of further downgrades to come. On the 20th of October, 2015, Moody's also downgraded Yum! Brands senior unsecured notes to Ba1 from Baa3 and placed the company's rating on review. The downgrades affected ~$4.0 billion of rated debt securities. Moody's placed the company on review for further downgrade and said:
" Overall, Yum's ratings could be downgraded in the event operating performance deteriorated or the adoption of a more aggressive financial policy resulted in debt/EBITDA of above 4.0 times, EBIT/Interest well below 3.0 times, or retained cash flow/debt falling well below 20% on a sustained basis. For the LTM period ending June 30, 2015, leverage on a debt to EBITDA basis was about 2.9 times, EBITDA coverage of interest was around 4.7 times and retained cash flow to debt was approximately 19%." - Moody's Investor Service
On the 11th of this month (December), Yum! Brands CEO Greg Creed defended the company's latest buyback program despite concerns surrounding it saying:
"We're going to become a global franchise with a huge cash flow. We did a lot of analysis, obviously, and we believe we can leverage up the balance sheet to about five times EBITDA," Creed told CNBC's "Squawk Box."
Leveraging up the balance sheet to five times EBITDA will trigger a further downgrade from Moody's. This will even be higher than the 4 times EBITDA threshold Moody's used as a benchmark for further downgrade. It is unknown how far Moody's will go in downgrading Yum! Brands if it goes ahead with its new financial policy, but another downgrade could trigger the stocks short-term downfall.
On the 4th of April next year, Yum! Brands has $300 million in bonds maturing as shown below. This $300 million in bonds coupled with the $6.2 billion in buybacks and the cost of a China business spin-off makes the company's credit rating riskier for 2016.
Source: Yum! Brands Investor Relations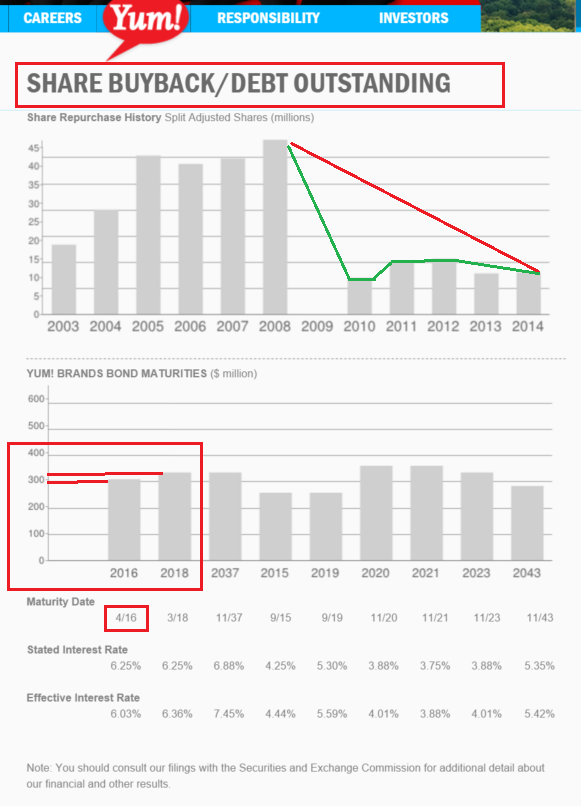 Furthermore, there might be other catalysts that can encourage rating agencies to downgrade Yum again. Yum! Brands plans to grow its store count three-fold and this might require further debt. According to the CEO, Yum! Brands plans to rapidly grow stores after the China business spin-off to about three times of what they have now.
"I feel like we had two powerful companies locked up in one, and now there's unlimited potential," Yum Brands CEO Greg Creed tells USA TODAY, speaking just as the fast food giant wrapped up its investor relations conference on Thursday in Plano, Texas. "I think we can triple the number of restaurants outside of China just like (Yum China CEO Micky Pant) can triple the number inside China." -Greg Creed, Yum! Brands CEO.
In conclusion, in spite of the aforementioned credit risks, there are other catalysts in 2016 that might make the downgrade difficult. In the next 12-months, good news meant to bolster investor confidence in Yum! Brands will come from:
Prior spin-off theory points to the parent company outperforming prior to the spin-off: Academic research has pointed to the idea that "over the two-year period prior to the spin-off, the stock price of the average of both the parent and the spin-off outperform the market on average." Since Yum! Brands has not yet surged, there is a chance the stock will skyrocket prior to the spin-off. This will not be stimulated by buybacks, post-spinoff conditions and debt restructuring.

The

China

spin

-

off

:

Spin

-

off's

are

always

at

some

premium

.

Yum

!

China

might

attract

enough

premium

to

surge

Yum

!

Brands

'

stock

higher

. They may also have more money to reduce their leverage ratio and avoid any further downgrades.

Buy

-

back

program

:

Yum!

 

Brands

announced

its

intention

to 

return

up

to

$6.2 billion to shareholders

prior

to

the

China

spin

-

off

.

This

program

allows

the

company

to

either

increase

EPS growth

or

to

engineer

increased

EPS

through

 its 

stock

buy

-

back

. Either way, better EPS might increase the company's stock price.
The stock price washed away most of the downside risk: Yum!

Brands

stock

price

is

~

10

%

above

its

52

-

week

low and

~

31

%

below

its

52

-

week

high

.

The

company

seems

to

have 

washed

away most of

its

downside

risk

.
Considering that we are in an environment where rates are projected to rise, a highly leveraged capital structure increases Yum! Brands' credit risk and limits its financial flexibility. This potential decline in Yum! Brands credit outlook can lead to further downgrades, making it hard for the company to raise more capital for expansion and for meeting its short-term obligations.
Is this article helpful ?
---