Marvel: A Grand Success For Walt Disney Co (DIS)?
Has the  Marvel acquisition been a success? Or, Are Investors over estimating the positive impact on DIS stock?
Marvel's movie profit margins under Disney out-grossed DC under Warner Bros.
Disney is being strategic with Marvel in the television segment.
However, the theme park segment is problematic.
Iron Man, Thor, Hulk, and Spider-Man. What do these men have in common? They can all be taken down by Batman. All kidding aside, Mickey Mouse owns them. Just how useful has the Marvel acquisition been to Walt Disney (NYSE:DIS)? I will give you the following synopsis.
Over 7 years ago, Disney paid over $4B to acquire Marvel. Historically, the 6 to 7 year mark is when most companies decide to divest unprofitable segments. Thus, it seems like the perfect time to evaluate the acquisition.
Box Office
Due to the movie hoopla that arises anytime Disney releases a film, I thought it would be interesting to compare a few of them, courtesy of The Full Bleed.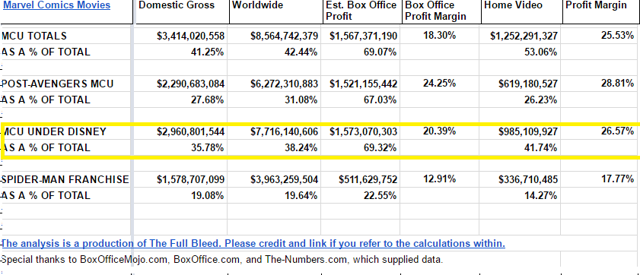 (Source: The Full Bleed)
Under Disney's ownership, the profit margins most likely have increased the overall total profit margin for the Marvel Universe franchise. The margins under Disney are 10% points higher than the average margins for all the movies. Additionally, if you look at the full chart you will notice that Marvel's earlier movies were not as profitable. Theoretically, this has to do with knowledge flows and realizable synergies from both parties. (See also: Walt Disney Co (DIS) Stock Could Fall To Sub $100 Levels Once More
If we compare Disney's acquisition of Marvel to Warner Bros acquisition of DC Comics, Disney knew how to correctly use the property. Warner Bros does not appear to have a solid handle on the DC franchise. They appear too reliant on the Batman and Superman franchises for profitability.

(Source: The Full Bleed)
Thus, Marvel under the Disney banner has increased the overall profitability of its films aiding in Disney's overall profitability in the Theatrical and Film segment.
Televison Medium
Marvel has done well on the theatrical front. Can the same be said of its television offerings? The answer is yes.
Moviepilot did a ranking based on a combination of Rotten Tomatoes and IMDB audience approval ratings of the live action series instead of critics. It is the audience that determines whether or not a film succeeds, not the critics. While the list is missing a few recent and noteworthy entries because of the publication date, Marvel's properties have performed pretty well. Additionally, based on SymphonyAM data, the 4 streaming Marvel series are within the top 10 of Netflix's most-watched TV shows. It also appears that the Marvel franchise is performing better on Netflix than cable TV, which leads me to believe that Disney will need to focus on creating a stronger alliance as I stated in a previous article.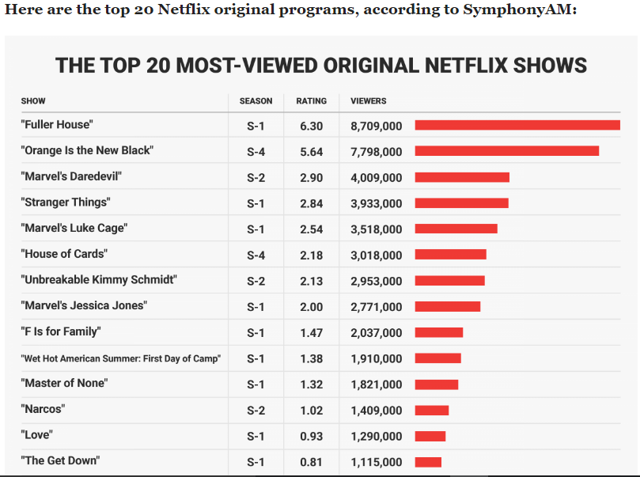 (Source: Business Insider)
Disney is on the right track to support its future Marvel outings. It recently acquired BAMTech to support its streaming endeavors. Disney has a set plan to continue to nurture and grow the Marvel franchise.
Theme Parks
The theme park segment is where I believe the Marvel acquisition fails. If you have been to a Universal Studios theme park, you are most likely familiar with the Marvel segments of the park. There is an important contractual obligation that prevents Disney from fully utilizing the properties. (See also: Disney Stock: Should You Buy Walt Disney Co (DIS) Stock Going Into 2017?)
Here are a few restrictions to be aware of:
East or West of The Mississippi - permitted uses shall be limited to the use of specific Marvel characters and Marvel may not permit a licensee to use the name "Marvel" as part of the attraction name or marketing.
Character[s] will not be advertised or promoted by means of (X) spot television buys, billboards, personal appearances, or print advertisements which are (Y) viewed, located or primarily directed to persons within 300 miles of Orlando. In other words, regional (i.e. covering a multi-state geographic region) or national television or print media buys, or brochures would not be prohibited within such 300 mile radius.
Essentially, Disney is extremely limited in how it can use the characters in the themeparks. Since the theme park segment is Disney's second most profitable segment, it is worth realizing that this segment may haunt Disney's stock price in the future if Disney suffers a minor setback in this segment.
Stock Performance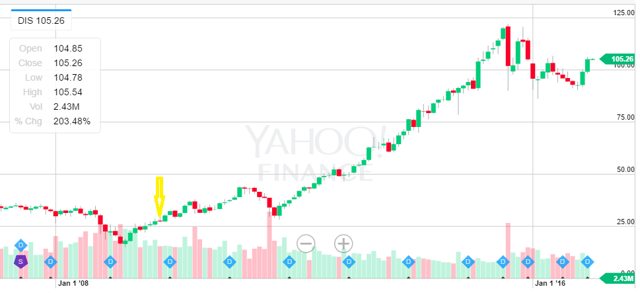 (Source: Yahoo Finance)
It is hard to say whether there is more impact left from Marvel given that investors believe Marvel is beneficial to Disney. I'd say that investors are over estimating the potential of Marvel by focusing solely on the movies and TV medium segments. Until Disney is fully able to utilize the property without any restrictions in its theme parks, Marvel acquisition may take longer or may not truly unlock value for the shareholders.
Looking for winning stocks? Check out Amigobulls' top tech stock picks and top auto stock picks which have beaten the broader markets by over 110%.
Is this article helpful ?
---