Should Berkshire Hathaway Inc. Dump Wal-Mart Stores, Inc. For The Kroger Co?
The Kroger Co. has delivered a superior growth in owner earnings per share as compared to Wal-Mart stores, Inc.
Kroger is building a moat with its private label products.
A switch to Kroger will not hurt business operations for Berkshire's McLane business.
As of March 2016, Berkshire Hathaway Class-B (NYSE:BRK.B) owned over 55 million shares in Wal-Mart Stores, Inc. (NYSE:WMT) with a present market value of $4 billion. In November 2015, Berkshire reduced its Wal-Mart stake by 7%. The article below will outline why Berkshire should completely divest from Wal-Mart and instead invest in industry peer Kroger (NYSE:KR).
Superior Owner Earnings Growth
In his 1986 letter to shareholders, Warren Buffett defined owner earnings as his preferred way to value a company. Owner earnings is essentially the total net cash flow of a business.
Using the data provided at GuruFocus, the table below shows the 10-year historical owner earnings per share for Kroger and Wal-Mart.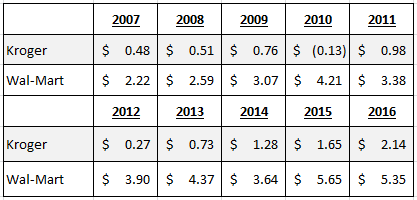 Over the past five years, Kroger has easily increased its owner earnings per share faster than Wal-Mart.
Over the past ten years, Kroger's owner earnings per share increased 346% versus a 141% increase for Wal-Mart.
Using one of Buffett's favorite metrics, Kroger looks to be a better future investment than Wal-Mart as Kroger is growing owner earnings per share faster.
Wal-Mart currently trades around $73; twice the price of Kroger ($37) but Wal-Mart generates more than twice the amount of owner earnings per share. This makes Kroger look more expensive. However, as stated above, Kroger is growing owner earnings per share faster.
Private Label Moat
Warren Buffett famously looks for companies that have an economic moat; an ability to maintain a long-term advantage over competitors. Kroger is building a moat in its private label goods and data analytics.
How does Kroger perform for private label goods?
In the most recently completed quarter, private label goods provided 27.9% of sales dollars and 29.9% of unit volume (ex fuel, ex pharmacy). Both percentages have been steadily increasing for the past three years.
The company's line of Simple Truth products, launched in 2012, generated sales of $1.5 billion in 2015. Kroger created a billion dollar brand in less than 5 years. SimpleTruth is now expanding into household care and other categories.
Kroger is undoubtedly strong in private label. How does this translate into a moat?
Kroger's private label brands are in high demand by consumers (see consistently increasing percentage of sales dollars and unit volume). These brands, like Simple Truth, HemisFares, etc are only available at Kroger family stores. Consumers that are loyal to SimpleTruth, a billion dollar brand, must shop at Kroger. SimpleTruth cannot be purchased online or at competing retailers.
SimpleTruth was initially launched for natural and organic food products (eggs, dairy, etc). If SimpleTruth's success in food can be translated into its new household care products, consumers will have more reasons to shop at Kroger versus competing retailers.
Private label goods also have higher gross margins than name brands.
Minimal Impact to McLane Business Operations
In May 2003, Berkshire acquired the McLane Company from Wal-Mart for $1.45 billion. McLane distributes groceries and non-food products to convenience stores, mass merchants, drug stores, restaurants, etc. Wal-Mart acquired McLane in 1990 and divested the business to focus on its core retail operations. In 2014, 30% of McLane's revenue was generated by selling and distributing groceries to Wal-Mart.
Berkshire's divesting from Wal-Mart and into Kroger will likely have minimal impact on McLane operations for the following reasons:
An investment in Kroger, versus an acquisition by Berkshire, will likely not jeopardize McLane contracts with other retailers. Berkshire already invests in Wal-Mart; an investment in Kroger would not be viewed differently by competing retailers.
Conclusion
In conclusion, Berkshire Hathaway should divest its Wal-Mart position and instead invest in Kroger. Kroger is increasing its owner earnings per share faster than Wal-Mart and is building a moat in private label products. Kroger is also growing same-store sales faster and has more geographic locations to expand to versus Wal-Mart. An investment in Kroger will likely not harm the McLane business that Berkshire owns and operates.
Contrarian
Why would Berkshire not switch from Wal-Mart to Kroger?
Selling his entire Wal-Mart position will likely incur a large capital gains tax; something Buffett tries to avoid (ie Duracell / Procter & Gamble (P&G) (NYSE:PG) share swap)
As mentioned early in the article, Kroger is currently trading at a slightly higher price to owner earnings ratio versus Wal-Mart. Buffett may find this multiple too high.
Berkshire may be done with retailer investments; the company has sold off its Tesco investment and reduced its Wal-Mart stake. Berkshire may be exiting the industry.
Is this article helpful ?
---