Walt Disney's 3 Unique Sales Maximizing Abilities That Investors Overlook
First, it is the longevity of revenue generating abilities of Disney's IP.
Second, it is its ability to create billion dollar businesses by leveraging success across different platforms.
Third, Disney has a unique ability to create new IP from existing IP. An ability that opens doors to unlimited new opportunities.
A unique way to look at how Disney manages to extract every ounce of value from the content it creates and acquires.
New content whether created or acquired can create multiple revenue streams. There are three layers of extracting value from content at the Walt Disney Co. (NYSE:DIS)
Ability to sustain its IP FCF generating potential
The Walt Disney Company has been able to unleash shareholder value from content it created or acquired a long time ago. For instance, back in 2006 Disney decided to team up with Pixar in a $7.4 billion deal. But it did not stop there. Disney acquired Marvel (the comic book company behind X-Men and Spider-Man) for $4 billion in 2009. Also, in 2012, Disney  made a $4 billion acquisition of Lucasfilm. These acquisitions have and will continue to make Disney money for years to come.
But the longevity of these intellectual properties ("IP") is what is extremely special. Disney has and will continue to generate substantial FCF from its IP post-acquisition. Take Star Wars, for example, where Disney has already made over $2 billion from it post-acquisition (through "Star Wars: The Force Awakens"). But it does not stop here. Disney has four Star Wars movies planned from 2016-2019.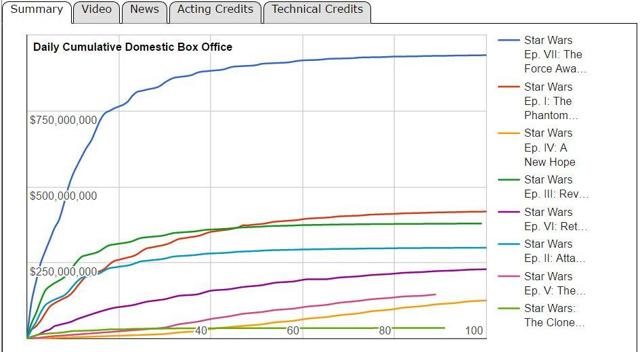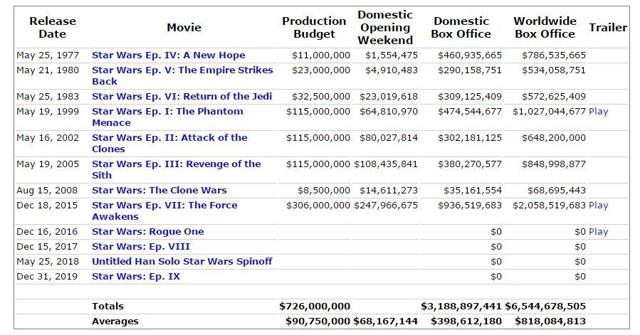 Source: The Numbers
Implying that Disney's IP will still be of tremendous value years from now. But what makes them even special is that as Disney creates and acquires new IP it will be accumulating a portfolio of hidden assets that will continue to create shareholder value 5 to 10 years from now.
This is a great value proposition because content from Pixar or Marvels or the Lucasfilms have a proven demand. They are powerful global brands. This is why I think they will last a long time.
Ability to leverage success across different platforms
But post-acquisition is not the only way Disney continues to sustain the FCF generating ability of its IP.
Disney has managed to effectively leverage the success of some of its blockbuster movies and beloved characters via Parks and Resorts. This has paid off handsomely for the magic kingdom. For instance, Parks and Resorts revenues for Q2 2016 increased 9% to 4.3 billion and segment operating income increased 22% to $819 million.
What makes this special is the fact that the characters and the inspiration behind the theme parks are derived from its movies and characters. Meaning that the time spent on designing, creating and bringing to life characters generates revenues that transcends box office sales. This ensures that Disney maximizes sales on the content it creates and the content it acquires. As of FY2015, Parks and Resorts contributed $16.162 billion in revenues or ~31% of total sales.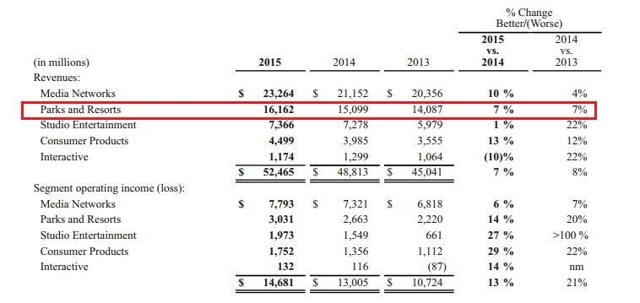 (Source: Disney's 2015 Annual Report)
Disney's Parks and Resorts makes money through various means:
"..The businesses in the Parks and Resorts segment generate revenues from the sale of admissions to theme parks, sales of food, beverage and merchandise, charges for room nights at hotels, sales of cruise and other vacation packages and sales and rentals of vacation club properties.." Disney's 2015 Annual Report Page 6.
What is fascinating about all this is how Disney has managed to create a $16 billion business by leveraging its success in movies.
But there is more. The Parks and Resorts are a great marketing tool for Disney as it keeps Disney's characters alive. This is particularly important because it makes any future movies featuring those characters more likely to succeed. In addition to that, it makes it easier for video streaming sites such as Netflix and Hulu to license Disney's content. Furthermore, it makes the success of DisneyLife more likely. This simply means that Disney leverages its success from movies to Parks and Resorts and vice versa.
Third, its ability to create new IP from existing IP
There is a hidden value that Disney can unleash by creating new IP from its existing IP. It creates a whole new world for a whole new era of imagination. It opens doors to new movie opportunities with unlimited possibilities.
The Avengers is one great example of that. By combining different characters from different movies, they were able to create a complete new IP. The value in such combinations will be a great catalyst in driving new innovative plots and also Disney's topline in the long-term.
"We're pairing that unbelievable collection of content from Disney, ABC, Pixar, Marvel, Lucasfilm, and ESPN with innovation designed to drive opportunity in this incredibility dynamic era." - The Walt Disney Company 2016 Annual Meeting of Shareholders
This is another thing I think the market is missing. Disney can unleash great shareholder value simply by creating new IP from existing IP. This is critical to understand because new IP from existing IP are more likely to succeed. They are more likely to succeed because it is most likely that the IP being combined have already been well received by the public.
Conclusion
The value of what Disney can do with what it has is probably one of the most underestimated competitive strengths the market overlooks about Disney. This occurs in spite of the fact that it has proven this concept from the Avengers to its Parks and Resorts.
The longevity of the revenue generating abilities of its IP, the ability to leverage success across different platforms, the value in integrating its IP coupled with any potential new acquisitions, makes Disney a powerful long-term play.
Is this article helpful ?
---