Why Costco Wholesale Corporation Stock Is A Better Buy Than Wal-Mart Stores, Inc
Wal-Mart Stores, Inc. and Costco are the two giant retailers people mostly shop at.
As investors, which of the two stocks is a better buy?
Let's understand by using both the fundamental as well as technical approaches of stock analysis.
Wal-Mart Stores, Inc. (NYSE:WMT) and Costco Wholesale Corporation (NASDAQ:COST) are the two giant retailers people mostly shop at. But, which one one of the leading retailers is a better stock to buy? Let's look at the fundamentals, dividends, and technical charts to arrive at an informed decision.
A Look At Costco And Wal-Mart Fundamentals
I tend to keep it really simple when I look at a company's fundamentals. I find the more deep diving I do the more indecisive I become. It is a condition known as analysis paralysis. Thus, I keep it to a high level that requires the least amount of interpretation.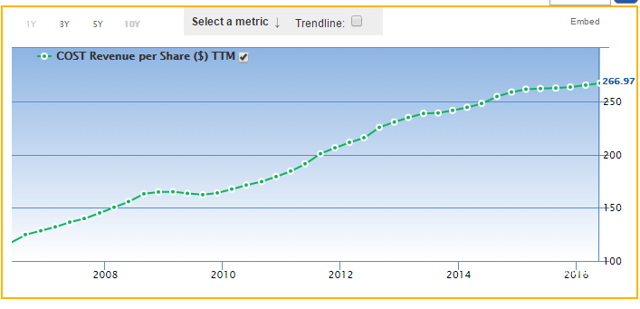 (Source: GuruFocus)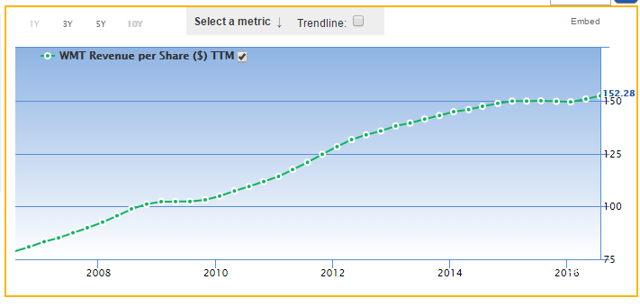 (Source: GuruFocus)
You can clearly see that both companies have revenues that are trending higher. However, things get a bit more interesting with earnings.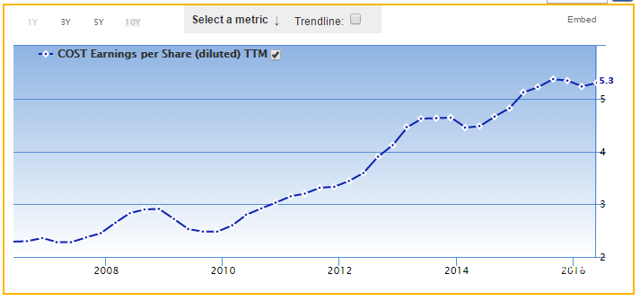 (Source: GuruFocus)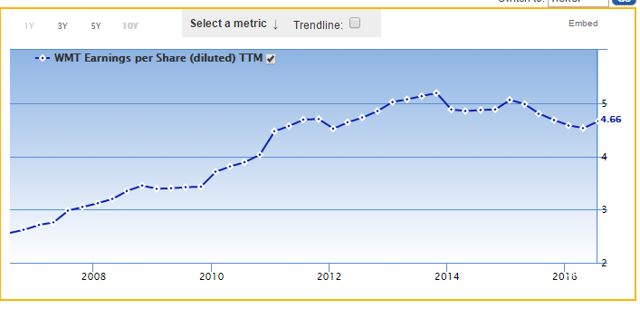 (Source: GuruFocus)
Although,Wal-mart's trend in earnings is to the upside, it is not that strong. Compared to Costco, it is relatively weak and has been essentially flat for about 4 years. Costco has a very strong trend in earnings, which does indicate that the trend is likely to continue unless some unforeseen event causes a hiccup.
A lot of fundamentalists scoff at this approach. They would look at same-store sales, some more balance sheet ratios, and a plethora of additional information. Going another step further, some might try to figure out what management might do. There really is no need to go overboard if you know that the sole purpose of a business is to sell products and make a profit. You must also realize that management will always look at the bright side.
Costco and Walmart Dividends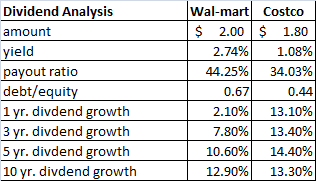 (Source: DripInvesting.org spreadsheet)
Although the dividend yield on Costco might not be ideal and the absolute dollar amount per share might turn you off, the other statistics will correct that flawed thinking. When you invest in a company for the long-term, you want low debt because that means that the company is running an efficient operation. Costco has the better operation. On top of that, Costco is showing a consistent increase in its dividend growth rates. It is above the 10% that a dividend growth investor strives for. Wal-mart on the other hand is showing a decline in recent years. The 1 year rate is lower than the 3 year rate which is lower than the 5 year rate.
Even with these two factors, some investors might still choose Wal-mart stock because it has been paying out dividends for over 40 years, while Costco has been doing it for over 10 years. The justification would amount to history. History does not mean much if the company is currently unable to grow its dividends.
Technicals Analysis Shows A Strong Uptrend In Costco Stock Price
The last step in our analysis is to look at the charts. Unfortunately, almost all long-term investors neglect this step. Even worse, if they do use the charts, they badly misinterpret them.
Here are the charts of both Costco and Wal-mart. Which stock would you select? Hint: (Don't try to anticipate what Wal-mart might do.)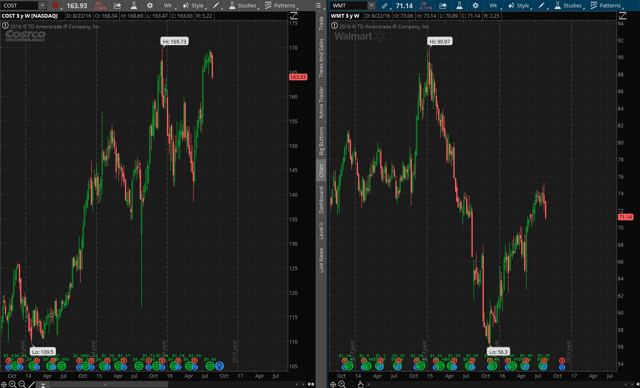 (Source: ThinkorSwim)
You go with the stock that is clearly indicating an uptrend, which is Costco. You need to step back and look at the overall picture if you have trouble deciphering the trend of the stocks. Don't be afraid to pay up for stocks that are going higher. Wal-mart is currently in the discount bin for a reason. Don't assume Wal-mart will go higher just because it has fallen so much. If you draw a Fibonacci retracement from the 91 level all the way down to the 56 level, you will see Wal-mart stock just did a 50% retracement which means it will likely head lower if the trend continues down.
Thus, combining all three factors shows that Costco is clearly the better buy.
Is this article helpful ?
---