Why Netflix, Inc. Subscriber Growth Expectations Are Too Optimistic
Netflix shareholders lost an aggregate of ~$5.4 billion when the stock took a 12% nosedive after Netflix's earnings call.
The decline was due to weaker-than-expected subscriber growth rates, but there is more to Netflix's weaker guidance than what meets the eye.
I believe that the optimism over the pace of Netflix's global expansion plans is overdone. This article explains why.
Netflix (NASDAQ:NFLX) stock price nosedived ~12% after the company issued weaker than expected subscriber growth guidance. For context, Netflix estimates that they will add 2 million international subscribers and 500,000 in the United States. But FactSet states that analysts were hoping for 3.5 million international additions and 600,000 subscribers within the U.S. Implying ~43% miss on international subscribers and  ~17% miss on U.S. subscriber numbers.
My contention is that the guidance on Netflix's global expansion overlooks critical challenges in Netflix's international growth story. This has resulted in very optimistic growth expectations.
The cost of internet relative to income
According to Netflix, "members with a streaming-only plan will be able to watch instantly through the Netflix service from over 190 countries."
The major problem in Netflix's revenue projections outside the United States is that the more countries Netflix launches in, the more subscribers it will get. Although subscriber growth has been correlated to revenue growth in the United States, it is my contention that this might not be the case internationally.
This is because video streaming generally requires a lot of data. For example, "watching movies or TV shows on Netflix uses about 1 GB of data per hour for each stream of standard definition video, and up to 3 GB per hour for each stream of HD video."
But internet is very expensive in many countries. Although it is also very expensive in developed countries like the United States, the average monthly income in the U.S can absorb that cost but many individuals around the world would find purchasing data that can allow you to stream Netflix movies very expensive. For instance, the graph below shows internet costs as a percentage of monthly disposable salary in countries all over the world (more tables showing all the countries are in the appendix).
(Source: Authors analysis with data derived from Numbeo:Rankings by Country of Average Monthly Disposable Salary against Price Rankings by Country of Internet)
The data I used in the above graph is based only on 120 countries. In approximately 45 out of those 120 countries, the cost of internet on a monthly basis is ~10% (and higher) of the average monthly disposable salary. Only 19 out of the 120 countries have the cost of internet at ~2% (and below) relative to their average monthly disposable salary. Therefore, ~38% of the countries in the world (confining the world to the 120 countries) would find the cost of internet relatively expensive based on how much they earn. Only ~14% would be okay with it, but even paying 2% of your total income is challenging for people with a lot of responsibilities e.g. family, rent, loans etc.
The 46%
According to the current world population of ~7.4 billion and the total internet users in the world of ~3.4 billion, only around ~46% of the world population has an internet connection. This is a drastic improvement to less than 1% in 1995. The number of internet users first reached a billion in 2005, two billion in 2010 and ~3 billion in 2014.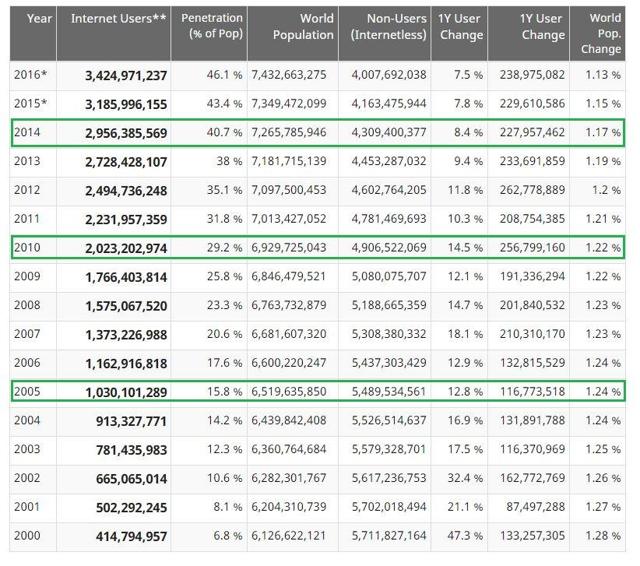 (Source: Internet Live Statistics)
In addition, the 46% of internet users are not evenly distributed across the globe as shown below.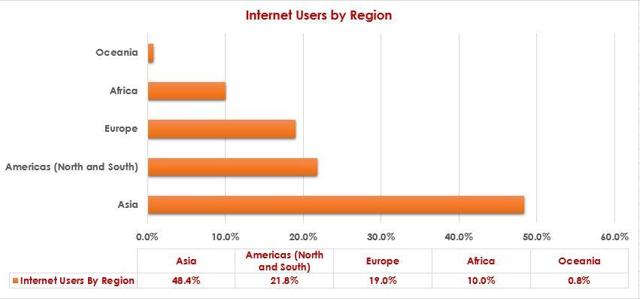 (Source: Authors analysis with data derived from Internet Live Statistics. Note this particular compilation is as of July 2013)
This is a critical point because it goes against Netflix's current plan to enter as many countries as possible. This is because there are only three major regions (Europe, Americas and Asia) where they can get more users. And in those three major regions, there are only a handful of countries which can enable Netflix to optimize revenues.
Putting it all together
Netflix's global expansion might be slower than expected for numerous reasons.
First, internet penetration is low, and in places where people have internet access, it is expensive in most countries. This might make it harder for people who might have access to the internet to subscribe to video streaming services like Netflix. This is because people want to get the most out of their money, and if internet services are expensive or slow, people are less likely to pay for a service they cannot fully utilize.
As for people with internet access, they have other alternatives other than subscribing to Netflix such as illegal video streaming sites. Because the dollar is a more powerful currency than most other currencies in the world, Netflix's U.S. pricing might prove to be too expensive in other countries.
In addition, the value proposition presented by Netflix might not be attractive to some people who can afford Netflix and have internet access. This is because most of its shows like "House of Cards" and "Orange Is The New Black" resonate more with the U.S. demography. Although the shows are particularly captivating and transcend geographies and cultures, they might not offer enough value for people in other countries to subscribe to Netflix. Especially so, if people have a way of watching some of their favorite TV shows on illegal streaming sites.
Thesis Risk
The major risk to a bearish sentiment on Netflix is that the company has managed to prove the bears wrong time after time.
Netflix's initial plan to take over traditional TV was once considered unrealistic. There was no way a company like Netflix could disrupt an industry that has enjoyed growth for years. An industry with powerful players. But fast forward those assertions and limitations to 2016, Netflix has 81 million subscribers and $2.31 billion in cash. Long-term shareholders have greatly benefited from Netflix's stock price appreciation of ~7,825% since May 31st, 2002, making it possible that the company might surprise the street once again.
Conclusion
As Netflix saturates its TAM (Total Addressable Market) within and outside the U.S., its next revenue growth strategy would be to either increase subscription prices across all its three different plans or to move as many users from basic to standard and from standard to premium plans.
But the "price hike" option might be challenging as consumers become more price sensitive due to the abundance of competitors: Amazon Prime Video, Hulu, HBO, Youtube Red etc.
The second option will be challenging on two levels. First, it increases how much consumers have to pay. Secondly, switching to higher plans increases your subscription as well as the data required to stream movies. More data comes at a cost and can limit how many markets (and it shrinks Netflix's TAM) Netflix can successfully penetrate.
Lastly, Netflix's optimism deteriorated when faced with reality. The cost of internet in different countries relative to their earnings potential might shed more light on the reason why Netflix decided to offer weaker than expected guidance. This is why I believe that reality dawned on Netflix's management, that maybe their global subscriber growth rate projections were too high and too optimistic.
Appendix
Is this article helpful ?
---