Why The Tesla Model 3 Is Reigniting Momentum For Tesla Motors Inc.
Tesla unveiled its next-generation growth driver the Model 3. The car had 180,000 pre-orders in 24-hours and 276,000 pre-orders in 72-hours.
The high demand suggests the company is resonating with a discount seeking market and thus expanding its addressable market, exceeding analyst expectations.
The potential will be in volumes and the bottom line promise is embedded in Tesla's ability to attain economies of scale.
Reigniting Tesla's Momentum
On March 31st, Tesla (NASDAQ:TSLA) unveiled its mass-market car that will be produced in high volume with a base cost of $35,000 at the Model 3 Unveil Event. According to Elon Musk, the Tesla Model 3 will be able to comfortably seat five adults, the Model 3 will be safe in all categories, it can travel 0-60 MPH in less than six seconds and it will come standard with autopilot hardware and supercharging capabilities. In addition, the Tesla Model 3 will travel for 215 miles per charge but Elon Musk said that these were just base numbers:
"I want to emphasize, these are minimum numbers. We hope to exceed them." - Elon Musk, Chairman & CEO of Tesla
(Source: Tesla Motors - Tesla Motors Reservation Page for the Model 3)
The 180,000 orders in 24-hours for the Model 3 suggests that Tesla's mass-market, cheap car will be a great momentum driver for the stock. But beyond the numbers, some fans camped overnight to be first in line for the privilege of paying a $1,000 deposit for the Tesla Model 3 car. But the response was unexpected. A survey by brokerage Evercore ISI ahead of the unveiling showed that investors expected Tesla to have 55,000 orders during the first 72 hours and 117,000 by the year end. This means that investors were expecting Tesla Model 3 orders to be ~18,333 vehicles in the first 24 hours, implying that Model 3 orders came in at ~718% higher than anticipated.
But these orders are not just signs of intent. At least 115,000 orders of Tesla's Model 3 have given Tesla at least ~$1,000 in advance for the car in 24-hours. Implying that these orders are likely to turn into sales.
Tesla estimates that it will have delivered a total of 187,000-197,000 Model S and Model X cars by FY2016. The initial high demand for the Model 3 suggests that Tesla will be able to rapidly accelerate its total orders to all-time high's once the Model 3 hits the market.
(Source: Tesla's Fourth Quarter 2015 Shareholder Letter)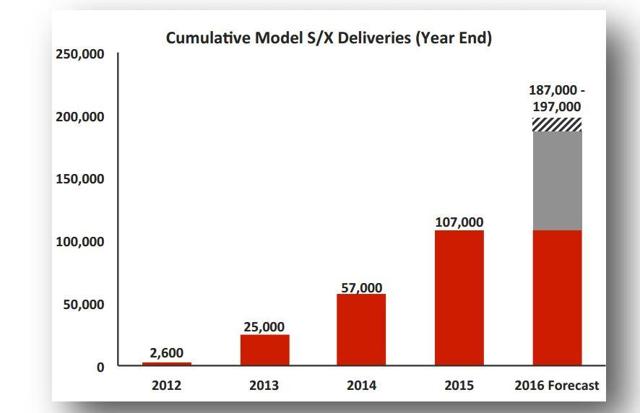 But Elon Musk just tweeted that the orders were at 276,000 at the end of Saturday. Put another way, that's an average of 92,000 order reservations per day in the first three days. That implies that the pre-orders for the Model 3 alone, in 72-hours, are now 30% higher than Tesla's combined estimated cumulative deliveries of its Model S and Model X by FY2016. Tesla will be able to more than double its deliveries with the Model 3. As a result, Tesla's Model 3 will greatly help accelerate Tesla's total orders in 2017 and beyond.
(Source: Elon Musk Twitter Feed)
This increased demand will allow Tesla to compensate for the low price with higher volume. According to Musk, the average selling price came in at $42,000, implying ~$11.6 billion in 72-hours, ignoring taxes and other costs. This is very interesting when you compare it to Tesla's total sales. Tesla's trailing twelve-month revenues are at $4.05 billion according to Yahoo! Finance, key statistics about Tesla Motors, meaning that Tesla's current TTM revenues are ~186% lower than Tesla's Model 3 pre-order potential sales (assuming all orders turn into sales).
Tesla Expanding Its TAM
There is a reason why the Model 3 will be able to resonate with more people. First, it resonates with people who are environmentally conscious and thus creates a feel-good spirit for those consumers. During the presentation, Elon Musk cited an MIT research stating that there are 53,000 deaths annually attributed to emissions. Also, a research by the Earth System Research Laboratory or ESRL states that the concentration of carbon dioxide in the atmosphere is at record highs.
(Source: Earth System Research Laboratory or ESRL)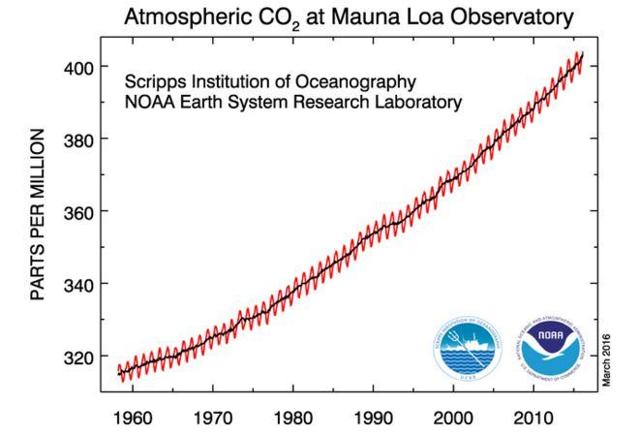 Electric cars are one of the indirect ways to say that you care for the environment without saying it. People who would care are not necessarily those who are actively against global warming but also those who want people to perceive them that way.
Second, there is a surge of discount-seeking, price-conscious consumers who want something fancy, who are environmentally conscious and who like fast cars and Tesla just rapidly expanded its Total Addressable Market or TAM. This is the same reason why Apple introduced the iPhone SE. They wanted to expand their TAM and resonate with this new discount-seeking consumer base. Also, discount-seekers are the main reason why Samsung's market share is deteriorating faster, because of low-priced smartphone makers like Huawei and Xiaomi.
Concluding Remarks: Cost Per Car, Silicon Challenges, And Zero Traditional Marketing Costs
Tesla does face a lot of challenges. Its cars have a myriad of technologies packed into them. Meaning that the cost per car is higher than less advanced cars with the same price tag. Therefore, although this gives Tesla a competitive edge, it also gives Tesla a cost problem. In addition to cost, Tesla also has to deal with the lack of new silicon mines for its batteries moving forward. Because Tesla will need to mass produce its Model 3 which has gained high interest, and therefore, they will need as much silicon as they can get. Any deceleration in silicon production would be detrimental to Tesla in the long-run.
Nonetheless, there is always a financial benefit of a hyped product to the stock price. First, Tesla is able to generate top-notch demand without spending money on traditional marketing. Eliminating the cost burden of traditional advertising does not only suggest high interest but it also reduces costs, expanding margins. Moreover, this means that until the final shipping numbers start to come in at the end of 2017, Tesla's stock price is likely to have more upside than downside.
Is this article helpful ?
---