Will Nervana Open Up New Growth Frontiers For Intel Corporation?
Intel just acquired an artificial intelligence startup called Nervana.
The deal, worth up to $400 million, could open up a new growth avenue for the chipzilla.
Integration of Nervana offerings with Intel's Xeon chips could further enhance the appeal of the latter's offerings.
It looks like Intel Corporation (NASDAQ:INTC) is betting big on artificial intelligence. The chipzilla announced its acquisition of a deep learning firm called Nervana earlier this week. Although the terms of the deal weren't revealed, industry experts believe that the buyout price could have been anywhere between $350 - $400 million. The development marks Intel's intention of diversifying its business, to become an entity that's beyond just a chipmaker and to enter into the deep learning segment. I see this as a huge positive for Intel corporation investors. Why?
What does Nervana Do?
Let me start by saying that deep learning systems are catching up with us faster than we know. Monotonous and repetitive tasks such as finding a fracture in a patient's X-ray or understanding what a person's handwriting means and then storing it digitally, are now being passed onto computers. But the question at hand is: who develops such programs that end up rivalling the intelligence of humans?
Well, Nervana's software expertise would allow you to do that. The company claims to offer an easy-to-use interface so that its clients can create custom algorithms according to their needs. They can even use pre-prepared algorithms, tweak it and get the task done. So at the end of the day, Nervana is a platform that helps in automating monotonous, laborious and repetitive tasks. You train the systems what to do.
It's also worth noting that you can't really run these algorithms on your regular computers. Deep learning typically involves millions of matrix calculations, at a speedy pace, for them to be meaningful. CPUs generally tend to have 4-8 cores which aren't really ideal to handle these gigantic calculations. On the other hand, mass-market GPUs tend to have thousands of cores and they do a better job of running these algorithms as compared to CPUs, but at the end of the day, they are still generic devices.
To further boost the speed of neural network algorithms, faster than generic GPUs, Nvidia and Nervana offer machine learning accelerators. These are supercharged GPUs with far more cores than regular GPUs. Both companies claim that their accelerators boost the performance of deep learning tasks by as much as 10x, compared to setups that involve generic CPUs. I've attached a chart below for reference.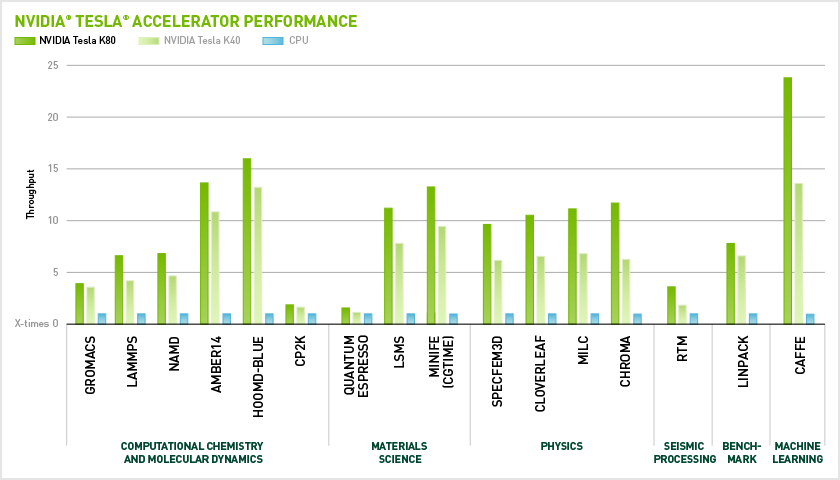 Source: Nvidia
So, in essence, Nervana is a competitor to Nvidia in the machine learning hardware segment. And in addition to that, Nervana also offers a platform to build, develop, test and run algorithms for deep learning. It's basically an AI platform and a hardware vendor. So how does it benefit Intel's business?
Why is Intel interested?
There are a few ways by which Nervana could actually benefit Intel. First and foremost, the overall deep learning industry is expected to explode over the next few years. Revenue from deep learning software alone stood at just $109 million last year, but it's projected to surge to $10.4 billion by 2024. Also, spending on deep learning software is expected to reach $40.6 billion by 2024. So Nervana's acquisition basically allows Intel to tap the booming machine learning segment.
Secondly, the machine learning accelerators would allow Intel to compete with Nvidia's Tesla offerings. This would not only boost Intel's revenue but further extend its prowess in the hardware chip segment. If Intel is able to combine synergies and leverage its expertise to further enhance the architecture of these accelerators, it would dominate the entire segment. I wouldn't be surprised if this happens as Intel already has a truck load of resources, think thank and IP to head in that direction.
More to the point, increased compatibility of Xeon chips with these accelerators might make Intel's server offerings even more appealing. Granted that Intel absolutely dominates the server segment at the time being, but enhancing the competitiveness of its server-class Xeon chips in the deep learning space might help in limiting the penetration of ARM-based server chips in the segment further down the line. Intel's management believes that this increased compatibility of two products would also enhance the total cost of ownership (TCO) of its server-grade Xeon and Xeon Phi processors so that's another plus.
Also, it's known that Intel leads the semiconductor industry with its latest fabrication process. If Intel is able to manufacture Nervana's accelerators on it's leading 10nm nodes, before GlobalFoundries or Taiwan Semiconductor can, then there's a high chance that its offerings would outclass Nvidia's Tesla offerings. But this is raw speculation, something that may or may not happen going forward. 
Investor takeaway
Granted that it would be difficult to track the impact on Xeon and Xeon Phi sales down the line, solely due to their integration with Nervana's accelerators, but its value addition at the end of the day. The acquisition would not only bring in additional revenue for Intel, but it would also help in limiting the growth of ARM-based server offerings in the deep learning space, diversify the chipzilla's business and allow it to tap a booming segment. Overall, I see the deal accretive to Intel's business.
Is this article helpful ?
---